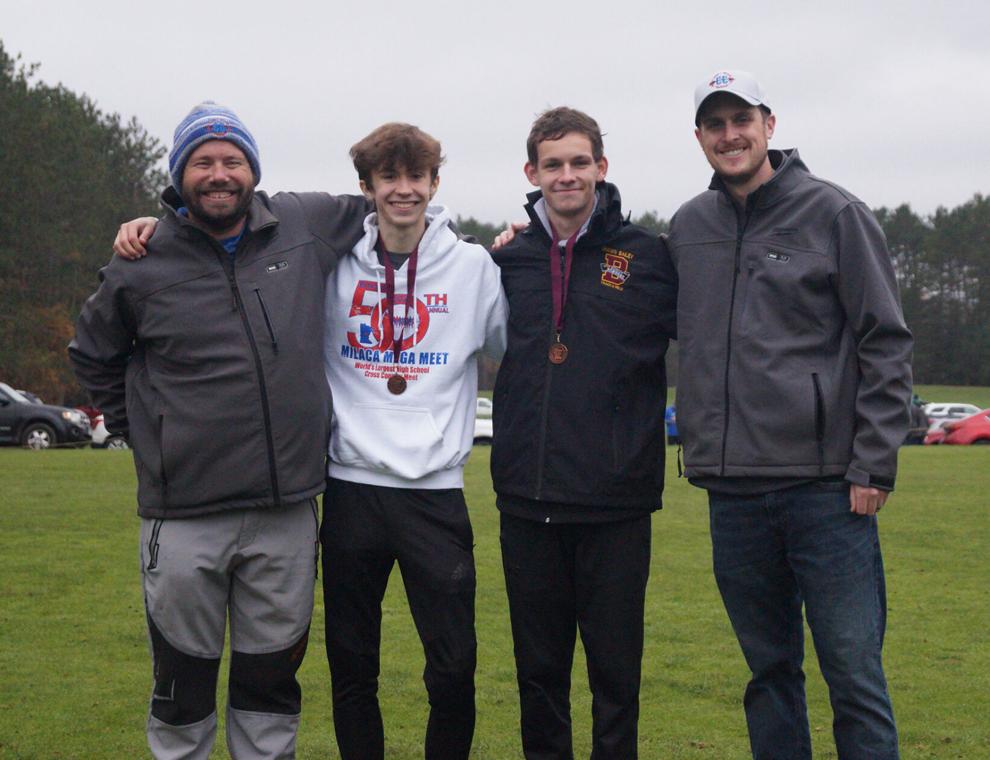 On Thursday, October 28 the Rebels cross country Varsity girls and boys went to the Cloquet Country Club for the Section 7A Championship meet. Anyone watching the weather forecast the night before saw the system that was spread from the Canadian border south to the Gulf coast with rain through the center of Minnesota. The forecast for the race was rain but the running gods must have decided to keep the rain at bay for the system stayed west and the sky's remained cloudy with temps in the mid 40s and hardly any wind with the course a little wet but in fine shape for running on.
There were 18 schools there representing Section 7A with anticipation high as to who would hold on and end up qualifying for the State meet. The top two teams and next six individuals, not on those teams, will go to the State meet. 
The girls ran first and did not disappoint with the fastest times they had seen at a meet this season with two girls, from other schools, breaking the 20 minute mark with a 19:54 and a 19:57. The Rebel girls all had either a season or a career personal best time leading them to a 4th place finish, only 5 points out of 3rd. The coaches were very proud of their performance at this and every other meet they competed in all season. 
Next up was the boys turn and they also did not disappoint in times turned in with two runners, from other schools, breaking the 17 minute mark at 16:33 and 16:56. The Rebel boys had a spectacular race and ended up also with all runners having either a season or career personal best time. This ended with them finishing 3rd and for the first time in the Rebels coaches tenure finishing with less than 100 points at 96. As you might have guessed this made them extremely proud of the boys and their accomplishments they made throughout the season. The best is that they are not through coaching this season because two Varsity boys are going to the State meet as individuals. Congratulations to Joseph Mikrot and Shawn Bailey, in a very close finish that came down to looking at the video, on punching their ticket to the Minnesota State Cross Country meet in Northfield at the St. Olaf College on Saturday, November 6.
Brooklyn Wasche 13th 21:02.6
Amelia Olson 20th 21:41.6
Isabel Dewey 29th 22:06.9
Rayna Klejeski 31st 22:23.4
Brooklyn Peterson 60th 23:45.8
Alternates: Shannon Granquist, Elle Nielsen, Sophie Petty 
Joseph Mikrot 8th 17:40.4
Murray Salzer 24th 18:33.6
Johnny Danelski 27th 18:42.9
Elliott Wasche 31st 18:58.3
Chet Giersdorf-Thompson 42nd 19:28.2
Alternates: Magnus Koecher, Ryden Anderson