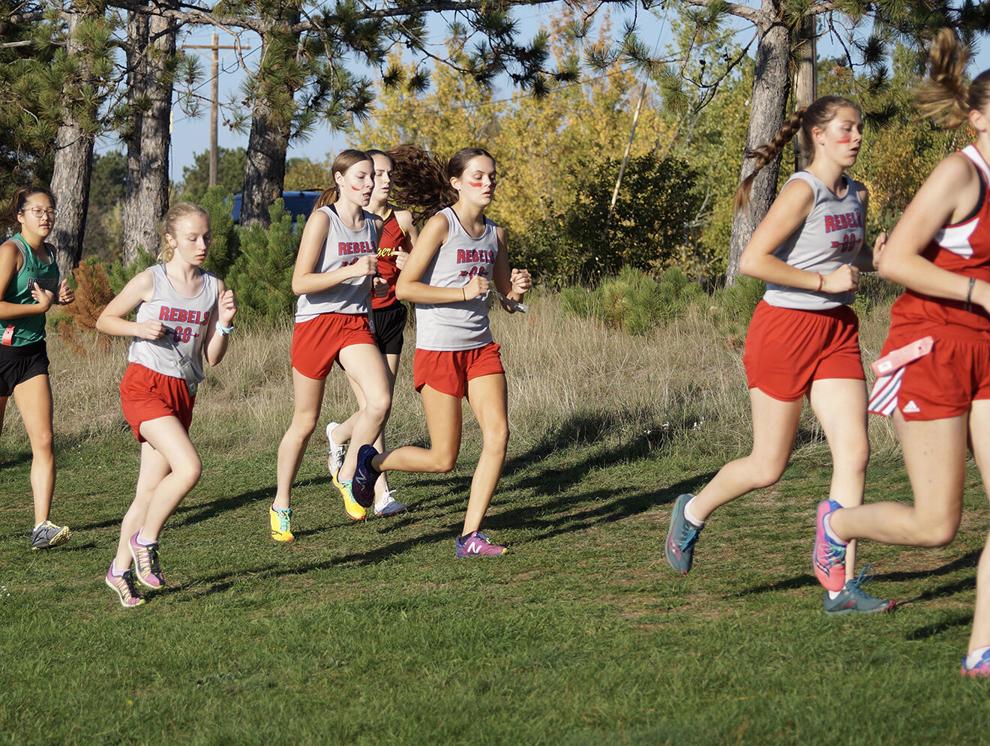 On Tuesday, October 5 the Rebels cross country team headed way up north to the Ely Golf Course. What can I say but I am starting to sound like a broken record about the weather. Even though it was cloudy and cool when the team left the school, the bus arrived in Ely with clear skies, mild wind and temps in the low 70s, another great day to run.
There was 12 schools present with three from AA and nine from A. The Rebels had six runners with season and also their career best times. Congratulations to Carl Halverson, Shawn Bailey, Zach Youngs, Matt Bohnsack, Ella Heaton, and Isabel Dewey. The top 15 runners for both boys and girls received medals. Once again congratulations to Shawn Bailey for his 11th place finish.
The race was divided into Junior High, Girls Varsity and Boys Varsity with no results being given for JV team finish's. The Junior High ran 2400 meters and Varsity a 5k. Once again the girls finished 1st for all A teams and 4th overall with the boys finishing 4th for A teams and 7th overall.
Next up is the Conference Championship in Grand Marias on Tuesday October 12th at the Pincushion Mountain trails. Than on October 19th the Rebels will be a little closer to home for the Proctor Lions Invite. Than it is the Section 7A Championship at the Cloquet Country Club on Thursday, October 28.
Kristian Wheeler 56th 18:54.6
Ledger Johnson 28th 11:39.8
Jackson McDowell 34th 11:42.5
Amelia Olson 19th 22:25.1
Brooklyn Wasche 28th 23:05.6
Rayna Klejeski 30th 23:07.2
Isabel Dewey 36th 23:21.1
Brooklyn Peterson 55th 25:53.7
Elle Nielsen 58th 25:59.9
Sophie Petty 64th 26:48.5
Sophie Gunderson 74th 28:24.1
Shawn Bailey 11th 18:04.0
Joseph Mikrot 22nd 18:38.6
Murray Salzer 39th 19:30.3
Johnny Danelski 54th 19:59.0
Magnus Koecher 59th 20:17.2
Matt Bohnsack 65th 20:30.0
Ryden Anderson 73rd 20:46.1
Elliott Wasche 74th 20:46.7
Carl Halverson 75th 20:49.6
Chet Giersdorf-Thompson 81st 21:03.6
JJ Skalko-Olesiak 127th 24:05.0