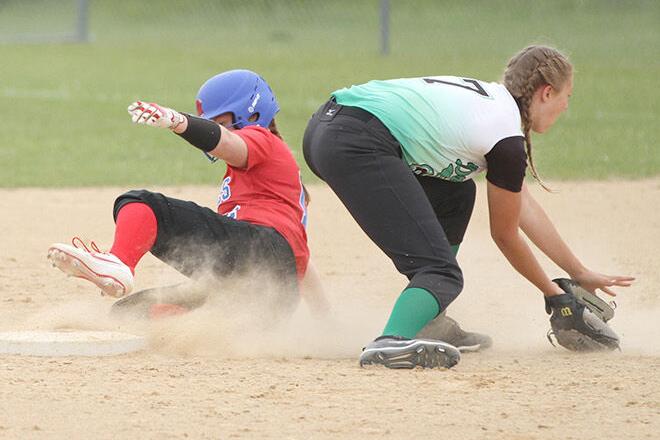 Moose Lake Willow River Softball team won three games this past week. May 21, Friday, the Rebels were in Mora to play the Mustangs, winning 6-2. On Tuesday, May 25, they traveled to Aitkin, winning 8-4. On Thursday, May 27, they played Silver Bay at the Willow River Softball Field winning in five innings 11-0. On Monday, May 31, MLWR Rebels hosted the first round of Section 7AA Sub-Section 1 tournament, defeating Pine City 14-0.
The Mora Mustangs were 10-7 overall. The Mora game went all seven innings with Sarah Christy in the center of the softball diamond, striking out three, walking no one, and allowing two earned runs. Hallie Klavu and Sandra Ribich were two for four at the plate. Klavu scored two runs, Ribich batted in two runs. Natalie Mikrot and Lily Kahara each were two for three in the batter's box, Mikrot hitting a triple. Rebels won 6-2. Mora is seeded fourth in Section 7AA Sub-Section 1 and finished the regular season 11-9.  
The Rebels played at Aitkin (6-10) on Tuesday, going seven innings with Alexis Hoffman pitching a complete game, striking out 11, one walk, allowing four runs, three of which were earned. Ribich was hot at the plate going three-for-four, hitting back-to-back homeruns, (three run homerun and solo homerun), and had six runs batted in. Maci Kukuk was three for four in the batter's box. Klavu scored two runs, going two for three. Megan Hattenberger hit the ball twice in her three-at-bats. Rebels won 8-4. Aitkin finished the regular season 10-10, seeded fifth in Section 7AA Sub-Section 1.  
On Thursday's game against Silver Bay, Christy hit a grand slam, threw a five-inning one-hitter game to give the Rebels the Polar League win on the Willow River Softball Field. Klavu, Mikrot, and Hattenberger each got a hit, Ribich was two for three. Christy drove in five runs. Rebels won 11-0. Silver Bay finished their season 13-7, third in Section 7A Sub-Section 1 and fourth in the Polar League. 
MLWR finished the regular season 16-3, losing to Proctor 14-4, Cloquet 4-1 and Cherry 11-3. They are in first place in the Polar League Conference. Esko is second, followed by Barnum in third and Silver Bay fourth. In Section 7AA Sub-Section 1, Esko is seeded first with QRF state ranking of 14 and the Rebels are second with QRF state ranking of 17. 
Playoffs started on Memorial Day in Willow River. Pine City, with an overall record of 2-15, seeded seven out of seven teams in Section 7AA Sub-Section 1, took on the Rebels. Hoffman threw a five-inning, no hitter, striking out seven, and walking one. Mikrot, Ribich, Christy, Klavu, Kukuk, and Hattenberger all had multiple hits to win the contest 14-0. Rebels advance this week in the playoffs with the win over Pine City.