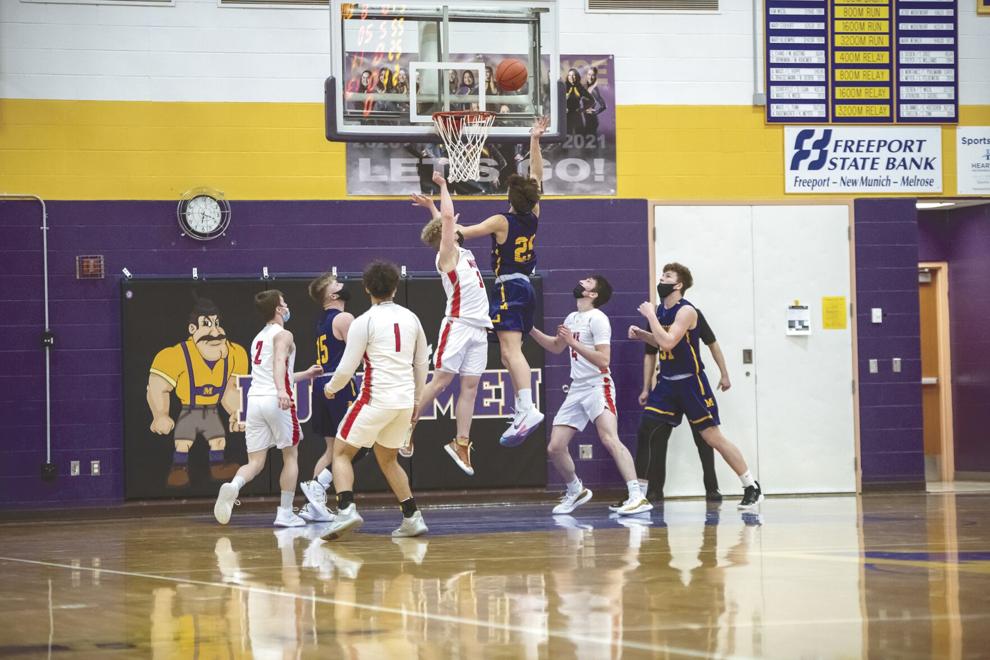 It was Spring Break at school this past week and the Moose Lake Willow River boys' basketball team (12-3) had three games, all on the road. Monday, March 1, they traveled over two hours to Melrose, Thursday, March 4, they were at Duluth Marshall, and Saturday, they made the long trip up to Mesabi East in Aurora.  
The Melrose Area Dutchmen (15-0), ranked number three in the state, made an amazing 62% of their two-point shots and 60% of their three-point shots Tuesday night. It's hard to beat a team that shoots that high. Melrose didn't have to go inside to their big guy much, because they were not missing their outside shots. They came out with pressure defense, diamond and one (1-2-1-1 press), full-court trap. The Rebels are really good at seeing the open guy and getting the ball to them. It was difficult to throw over the tall players Melrose had without it getting picked off. The press caused many turnovers and Melrose executed it very well. The Rebels got trapped in the back court in the corner and didn't have a play to counter the trap.  
The game was tied 15 all into the first half but Melrose gradually pulled away. At the half, Melrose led 53-41. Melrose won the game 104-82. In the expansive gym, there are banners on the wall proclaiming Melrose as West Central Conference Champions the last eight years and they are again this year. 
Mason Olson led in scoring with 22, Brady Watrin had 15 and Sam Dewey 13. Logan Orverdahl had 7, Phillip Sheetz, Landin Kurhajetz, and Chance Lunde each had 6, Duane Broughton had 4, Drew Danielson with 2 and Alex Watrin with 1. For Melrose, Grant Moscho had 29, Mason Heidgerken 24 and Rowan Nelson (6'5") had 18. 
Duluth Marshall's (12-3) Thursday's game allowed Marshall Hilltoppers' parents and Marshall students but no MLWR fans. Will Carlson was filling in for Head Coach Wes Cummins. The Rebels were in the lead by 13 points (59-46) when Marshall's Oscar Timm scored on a steal, hit a pair of free throws, scored off an inbounds pass and connected on two three-pointers to take the lead 68-65 with about a minute left in the game. Carter Johnson put in a layup and Mason Olson drove in for a layup to cut Marshall's lead to one with 10.7 seconds left in the game. MLWR forced a five second call on Marshall's inbounds play and then missed a quick three-pointer. Marshall missed their free throw. Olson's layup to win the game rolled out of the basket, Johnson's rebound and put back missed as well at the buzzer. Final score was Duluth Marshall 70, MLWR 69.  
Olson led the team again with 26 (6 threes), Sheetz 11, B. Watrin 10, Johnson 9, Danielson 6, Kurhajetz A. Watrin and Lunde 2, and S. Dewey 1.  
Destination on Saturday was Mesabi East High School in Aurora for an afternoon game. The team was ready for a win following two losses. They scored 20 threes, 14 in the first half. Olson had 8 threes, Orvedahl 5, Sheetz 3, S. Dewey 2, Welch and Danielson each with 1 three. Measabi East Giants shot 25 free throws, making 20 of them. Hunter Hannuksela was 11 for 12. S. Dewey was the only Rebel to shoot free throws and was 1 for 2. The team was having fun. At the end of the half, MLWR led 64-37 and went on to win the game 103-59.  
Olson led the Rebels with 26 points, Orvedahl 21, Sheetz 17, Kurhajetz 10, S. Dewey 9, A. Watrin 8, B. Watrin 4, Welch and Danielson 3, and Johnson 2.  
The Rebels' regular season games end this week. They play Chisholm in Moose Lake on Thursday, March 11, and go to Grand Marais to play Cook County on Friday at 4:45. 
The Section 7AA playoffs start Wednesday, March 17, and continue on Friday, March 19; Tuesday, March 23; and Thursday, March 25. The games will be played at the school with the higher seed.  First in Section 7AA is Pequot Lakes, MLWR is second, followed by Duluth Marshall, Pierz and Esko.