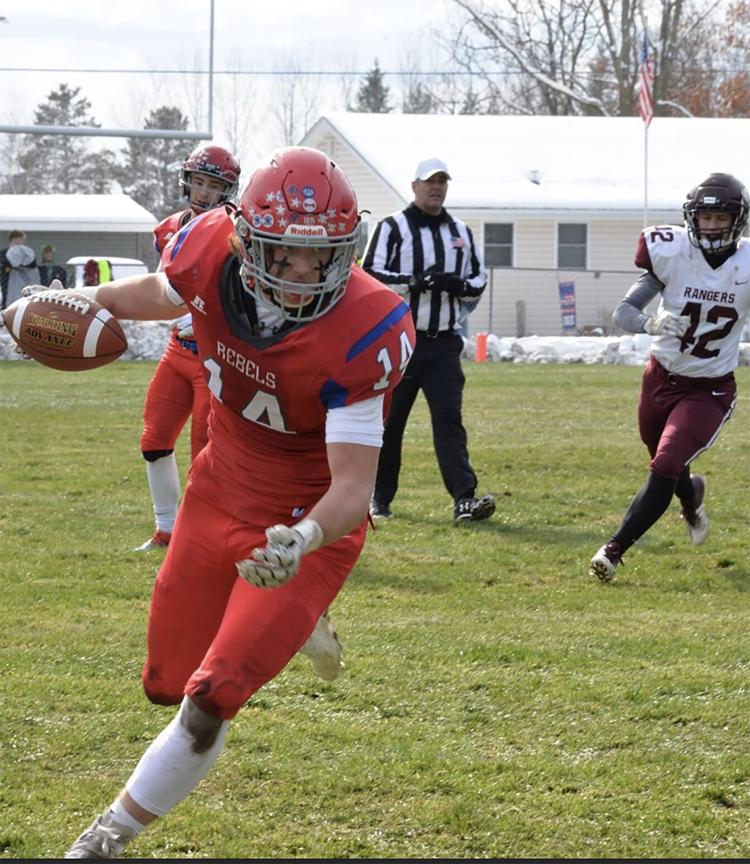 Moose Lake Willow River football team postponed their Thursday night game with Crosby-Ironton to Saturday, October 24 at 1:00 p.m. Daryl Herzog had the bleacher seats shoveled off, all the snow off the field, and the yard lines and boundaries were all marked. He said it looked better than it did this summer.  
MLWR dominated the game outgaining Crosby-Ironton 296 yards to their 82 yards with 16 first downs winning 28-6. Quarterback Mason Olson passed for 143 yards. Logan Orvedahl was the leading rusher with 67 yards and one touchdown. Brady Watrin led in receiving yards with 50, closely followed by Adam Olson with 47 yards. Sophomore Jackson Thompson rushed for 46-yards, two touchdowns, and a 93-yard punt return. Carter Johnson scored a touchdown and a two-point conversion. There were four quarterback sacks by Duane Broughton (2), Alex Watrin, and Garrett Peterson. Phillip Sheetz recovered a fumble and Landin Kurhajetz picked off a pass for an interception. The Rebels didn't allow an offensive touchdown. They were also penalized nine times for 83 yards to C-I two times for ten yards. 
In the first quarter, Rebels had a fumble, had holding and offsides penalties, Alex Watrin sacked their quarterback, Duane Broughton sacked their quarterback, Mason's pass to Carter Johnson was almost intercepted, Brady Watrin and Adam Olson each caught a pass, Orvedahl's touchdown was called back because the Rebels were holding, and the game was halted while Guyal fixed the down marker chain. The first quarter ended 0-0. 
The second quarter started with Orvedahl's 22-yard run into the end zone and Carter Johnson's two-point conversion. After C-I went out in four downs, the Rebels got the ball back and scored. With five minutes left until half-time, Jackson Thompson ran in a seven-yard touchdown and the two-point conversion. The half ended with the Rebels up 16-0.  
With 30 seconds to go in the third quarter, Jackson Thompson returned a punt 93-yards for six. The two-point conversion failed. The score was 22-0. In the fourth quarter, several Rebel passes fell to the ground. But with 9:23 left in the game, C-I's Dietrich Winegarner picked off Olson's pass and went 64-yards for the touchdown and six points on the board for C-I. Rebels' wide receiver, Carter Johnson, took it into the end zone with 1:45 left in the game. Rebels won the game 28-6.  
The top five football teams in the state last week, according to Minnesota Football Hub, are Calendonia, Minneapolis North, Redwood Valley, Blue Earth, and MLWR. Section 7AA QRF rankings have MLWR in first followed by Crosby-Ironton, Mesabi East, International Falls, Royalton and Eveleth-Gilbert. In the Conference District NE (Blue) QRF standings, MLWR is first followed by Mora, Aitkin, Esko, Crosby-Ironton, and Pine City. 
The Rebels will travel to Aitkin to go up against the two and one Gobblers on Friday, October 30 for a 7:00 p.m. game. Aitkin defeated Crosby 30-6, and Greenway/Nashwauk/Keewatin 38-0. Their loss was to Mora 28-16. Rebels last two regular season games are on Thursdays at Pine City and home against Mora.