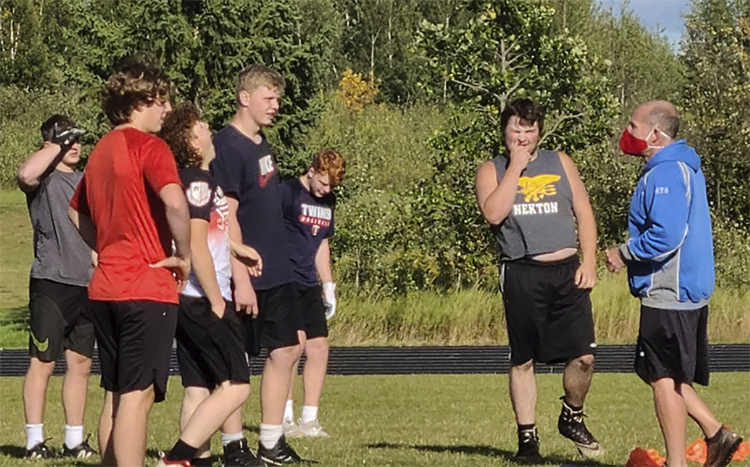 Head Coach/Athletic Director Dave Louzek has released the new requirements for Rebel football. Practice for fall sports started this week. All levels of sports will be held but with reduced schedules. 
The Junior Varsity team will be playing four games beginning October 12 at 5:45 p.m. at home against Barnum, October 26 they will travel to Crosby-Ironton for a 4:30 p.m. game, on November 2 their game is at home against Pine City at 5:45 p.m., and their last game is at Esko at 6 p.m. on November 9.  The Junior High team (7th/8th) will have three games: October 13 home against Barnum at 5:45/6:45 p.m., October 20 at Barnum at 5:30/6:30 p.m. and October 29 they play Esko at home at 4:30/5:30.  
 The Varsity football schedule includes four games on Thursdays this year. The Rebels will host International Falls at 7 p.m. on Friday, October 9. October 15, Thursday, they will travel to Esko for a 4:45 game and Thursday, October 22, they will host Crosby-Ironton at 7 p.m. Aitkin will host the Rebels on Friday, October 30 at 7 p.m. The last two regular season games will be on Thursday, November 5, at Pine City for a 6 p.m. game and Thursday, November 12, they will be home against Mora at 5 p.m. 
 For the home games, the senior football players will be allowed to buy four tickets and all remaining 9th through 12th grade players will be allowed three tickets each. The Cheerleading squad will get 10 tickets. The week of a home game, the players need to bring their ticket money (exact cash or checks made out to ISD 577) by Tuesday to Coach Louzek along with names of the people using the tickets. Coach Louzek will give that player their allotted tickets. No one will be admitted to the game unless his/her name is on the admittance list. Maximum fan capacity will be 250 spectators (includes home and away fans). All tickets will be presold. No community members/students will be admitted unless designated as family by one of the players. 
 When the Rebels are the visiting team at other schools (Esko, Aitkin and Pine City), tickets will also be presold to the players. The school hosting the game will tell Coach Louzek how many tickets they will allow the visitors to sell. By Tuesday of game week, Coach Louzek will collect the money and names of those buying the tickets. He will email the ticket holders names to the visiting athletic director. The admittance list will include the only visitors that can get into the game. No one else will be admitted.  
There will be no concession stand and no Rebel tailgate party at the field entrance. Fans should sit in family pods distanced from other pods. Every other row will be taped off with no fans sitting in them. Only the people that have their name on the admittance list will be allowed into the game. Hometown fans will enter through the main gate near the ticket/concession stand building.  
 Players will always wear their masks in school and on bus trips. Every athlete must have their own water bottle clearly labeled with their name. Football equipment will not be kept in the locker room. Space is provided in two sheds behind the Moose Lake School for football equipment/clothes.  
 Game attendance/spectator admittance policy and the above schedules are both bound to change as the season progresses.