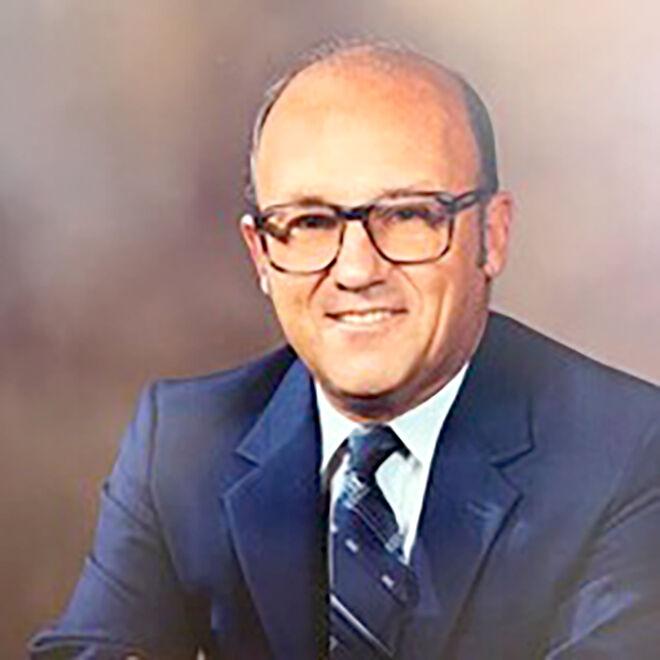 William Zellmann, 95, Princeton, Minn., formerly of Moose Lake and Norwood, peacefully passed away on April 16, 2021 at the Princeton Elim Home.  Bill was born on August 10, 1925 in Camden Township, Carver Co. to Otto and Della Zellmann.  He was raised in Norwood and he also lived in Moose Lake, Peoria Ariz. and Princeton.  
Bill graduated from Central High School in 1943 and enlisted in the Navy during WWII right before his 18th birthday and was discharged in 1947.  He married Lucille Stender on April 27, 1947.  He worked for his father at The Big Store until he took a job at Glencoe Municipal Hospital as a surgical technician and later appointed assistant administrator in 1960.  He accepted a position of administrator at Mercy Hospital in Moose Lake in 1963.  Lucille passed away in 1975.  He married DeeAnn Jaros in1978.  Bill and DeeAnn purchased a winter home in Ariz. in 1994.  She passed away in 2007.  He moved to Princeton, Minn. in 2013 to be closer to his family.  Bill was a member of Immanuel Lutheran Church, Princeton, Minn.
Bill held many leadership positions in Moose Lake and the state of MN:  Chairperson of the Minnesota Board of Hospital Administrators, Chairperson of District B, BC/BS Board of Directors, and President of the Midwest Hospital Conference.  He was a proud member of the American Legion for over 70 years. He retired in 1989 as administrator of Mercy Hospital. 
Bill had many interests:  He was a member of the Moose Lake and Westbrook Golf Clubs, and had four holes in one with the last one being on his 80th birthday.  He was a founder of the North 400 Club since the 50's, where he went deer hunting each fall.  Bill was a player and manager of the Norwood baseball team and a fireman and chief of the Norwood Fire Department.  He was an avid fisherman always seeking out those big sunnies.
Bill was proceeded in death by wives: Lucille (1975) and DeeAnn (2007), parents: Otto and Della Zellmann; grandson: David Zellmann; sister Jean Mueller; nephews: Robert L. Zellmann, Dr. William Kloempken; and other family members.
Bill will be remembered by his loving children: Vicky (Rodney) Anderson, William R. (Cindy) Zellmann, Jacqlyn (Greg) Pijahn, and Jon (Angela) Zellmann;  Grandchildren and great grandchildren: Jenny (Doug) VanMeter – Caleb and Colton; Troy(Amy) Anderson – Ted and Alice;  Josh (Kelly) Zellmann - William, Charlie and Jack; Paul (Angela) Anderson – Carter and Austin;  Jeremy(Caitlin) Zellmann – Levi and Rory;  Lu Schwochert – Avery and Jeremy;  Jon (Candy) Schwochert; Jordan (Jason) Schrupp – Jayden and Jaxon;  Nolan (Alyssa) Zellmann – Reid,  Cari Zellmann; Brother: Robert (JoAnn) Zellmann;  Step children: Jodi Jaros and Janelle (Dusty) Cooper and step grandchildren and great grandchildren; and many nieces and nephews.
Bill loved being with his family, whether golfing, fishing, hunting, playing cards or just sharing the good old times.  He enjoyed being with his many friends and so often said how thankful he was and what a wonderful world we live in.  Bill was a leader who would often say to people, "I'll tell you what we're going to do!"
A Memorial Visitation will be held on Wednesday, May 12, 2021 from noon until the 2 p.m. Memorial Service in Immanuel Lutheran Church, 401 8th Ave., Princeton.  Inurnment with Military Honors will be on Thursday, May 13, 2021 at 10:30 a.m. in Fort Snelling National Cemetery.  The funeral will be live on Immanuel Lutheran Church's Facebook page and also refer to www.hhkfuneralhome for more details.  COVID-19 guidelines will be followed with masks required.
Arrangements by Hamlin-Hansen-Kosloski Funeral Home, Moose Lake.