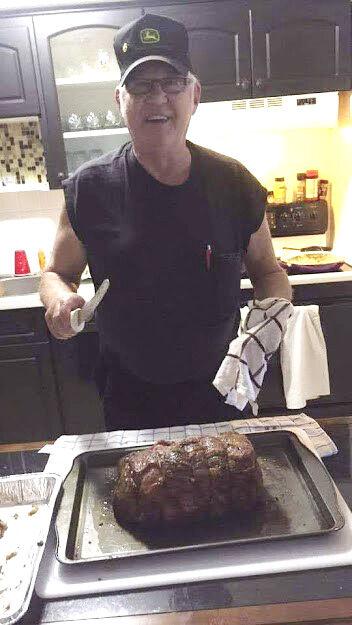 Russell Dahl, 79 of Sturgeon Lake, MN passed away Friday, April 24 in Clearwater Florida, after suffering a massive stroke.  Russ was born July 29th, 1940 to George and Ruth Dahl on the family farm along with his twin brother, Raymond who passed away at birth. 
Russ was a very hardworking, ambitious person. He worked for the State of Minnesota for 42 years, retiring in 2003. Russ was an Auctioneer for more than 30 years bringing his children into the business one by one to work by his side. Some of the other jobs Russ had through the years included:  bus driver where he owned his own bus for several years, a lawn care service, mechanic, grave digger and caterer of which was probably his favorite job of any of them. Russ started the Moose Lake Annual Thanksgiving Dinner making sure that no-one was alone on the holidays which he did this for 30 years before turning it over to the Sturgeon Lake Lions Club. At the end of his tenure at this community event, he and his great volunteer crew were serving over 350 meals to those that wanted a Thanksgiving meal.  
He is proceeded in death by his parents: George and Ruth, his brothers: George Jr. and Raymond, his great grandson: Isaiah Grzetich; along with his half brothers and sisters.
Russ is survived by his children:  Russ II of Moose Lake;  Lonny of St. Cloud;  Denise (Scott) of St. Petersburg, Fl.;  Tim (Kerry) of Cloquet, MN; and Cory of Sandstone, MN;  12 grandchildren and 15 great grandchildren:  Mathew (Jen) Dahl and their children: Jaxson and Austin; Zachary (Andrea) Dahl; Sami Dahl; Andy (Daphne) Dahl and their children:  Layla and Piper; Amanda (Rick) Elmer; Elizabeth (Joey) Grzetich and their children: Hayden, Uriyah, and Gracie; Ryan (Stephanie) Switzer and their children: Cayden, Brendyn and Jameson; Emily (Sam) Weber and their child:  Hudson; Dylan (Lindsey) Switzer; Ally Kovach Dahl (Ryan) and their children:  Eloise, Baxter and Cora; Caitie (Ryan) Dahl; and
Mason Dahl; his sister: Beverly (Rueben) Fries of Plymouth, MN; numerous nephews ,nieces and friends including his Gamper's and Moose Lake Muni Family.
A Celebration of Life will be held at his long-time home at 91625 Lords Lake Road, Sturgeon Lake, on July 25th at 2:00 pm. followed by a hog roast and other food and refreshments. We will also be celebrating his 80th birthday! (Masks provided). If you are unable to attend the service, you can sign the guestbook at www.hhkfuneralhome.com and you can also go to the website and click on Send Hugs to send the family a video sharing a story or taking a moment to tell the family what Russ meant to you. Your testimonial will be treasured by the family!