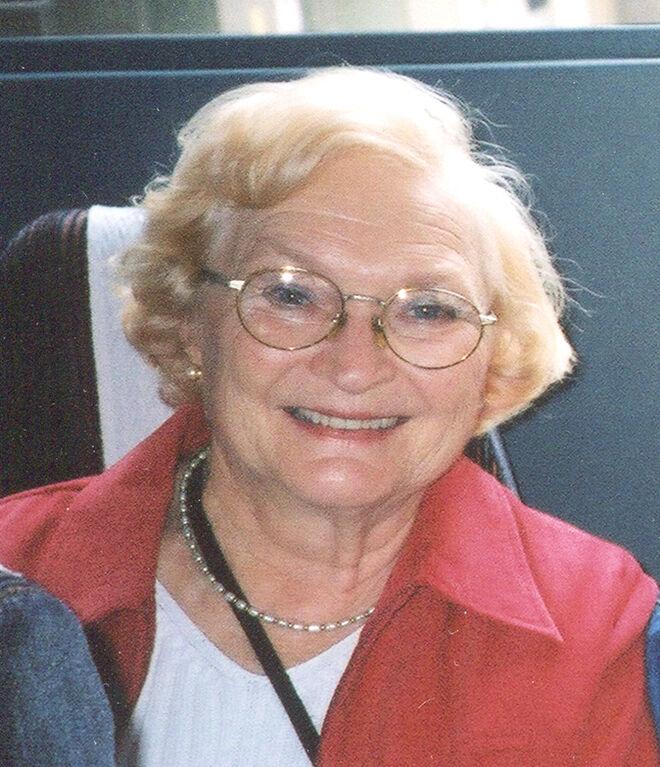 Mildred Butkiewicz Currie is unforgettable. First, you may have noticed her red hair, then you were taken in by her smile, usually adorned with bright lipstick.  She passed away on Thursday, April 15, 2021 in Benedictine Marywood Assisted Living in Duluth.
Millie was born on the family farm on February 4, 1924 to John and Elizabeth (Mikrot) Butkiewicz, the second of nine children. She attended a one-room school through 8th grade and then Moose Lake High School, graduating in 1940. She furthered her education at Duluth Business School specializing in accounting.
Over the years, she lived in many places and held many interesting jobs, including employment at Chung King (Duluth, Minn.), Baton Rouge Trade School (Baton Rouge, La.), Continental Oil (Wrenshall, Minn.), and the Duluth Arena & Auditorium. Eventually, Millie settled in Florida, where she lived at Mar-a-Lago for four winters, working for then-owner Marjorie Merriweather Post (of Post Cereals). Her last job was at the University of Florida where she remained until her retirement in 2007.
Millie loved to travel. She crossed the Atlantic by ship. She visited Europe and stayed in hostels. She traveled twice to Bolivia to visit her brother. She took a pilgrimage to Poland. As she traveled the world, she was always also planning her next return trip back to Minnesota.
Millie married Allan Currie on May 25, 1972 at Holy Spirit Catholic Church in Lantana, Fla. Millie was an excellent hostess. She and Al welcomed many Minnesota friends and relatives who wanted a break in the Florida sunshine. Millie would get up at dawn to take her guests to watch the sun rise over the Atlantic coast and was happy to drive them to the local sites. She enjoyed settling into Florida but her heart was in Minnesota. She returned every summer for a month or more to see relatives and friends. Anyone who had the pleasure of getting time with her was just as happy to see her as she was to see them.  
Millie was the favorite aunt to many nieces and nephews, remembering birthdays and bringing back presents from her worldwide travels. She took them to operas at the Duluth Arena and used her connections to get two nieces tickets to see the Beatles in 1965. Millie took nieces and nephews on special trips by train, car and airplane. She took two young nephews on a day trip from Duluth to Minneapolis and back so they could experience their first airplane ride on the way there and their first train ride on the way back all on the same day.
Millie hosted many sleepovers, baking treats in an Easy Bake oven, providing indulgent bubble baths and giving first make-up lessons. When needed, she was willing to return a lonely child home in the middle of the night. She shared stories of her travels and adventures inspiring a new generation to follow in her footsteps.
After 40 years of marriage, Al died on August 18, 2012. Millie continued to enjoy her retirement in Florida for several more years before moving back to Minnesota in 2017.
Millie was preceded in death by her husband; parents; brother, Leander Butkiewicz; and sisters, Florence Meger and Lorraine Serre.
She is survived by brothers, Louis Butkiewicz of Kettle River, Bernard (Alicia) Butkiewicz of Brooklyn, N.Y.; sisters, Theodora Hughes of Duluth, Louise (Richard) LeSavage of Apple Valley, and Phyllis (Gayle) Knutson of Amery, Wisc.; and many, many special nieces and nephews who completed her life especially Mary Louise Monson for her attentive, loving care these past four years.
Services: A funeral Mass will be held at 2:00 p.m. on Friday, April 23 at Holy Angels Catholic Church in Moose Lake, Minn. Visitation will begin at noon and the rosary service will be at 1:15 p.m. Interment will follow in St. Joseph's Catholic Cemetery in Split Rock Twsp. Masks and social distancing will be required. At a later date when it is safe we will have a gathering of remembrance and fellowship in Millie's honor. The service can be viewed on the church's website: holyangelsmooselake.com. Arrangements entrusted to Atkins Northland Funeral Home, Cloquet. To sign the guest book and offer an online tribute, see www.atkinsnorthlandfuneralhome.com