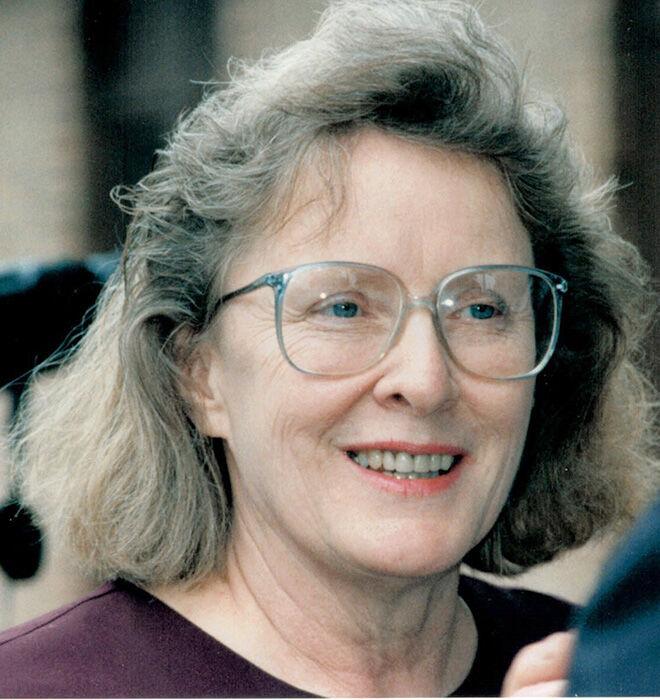 Jane Estelle (Rengo) Flickinger passed away peacefully at home on Tuesday, May 25, 2021. She was 85 years young. She was a wonderful mom, grandma, great-grandma, teacher, nurse, and friend. She was kind, patient, generous, and often hilarious. She was proud of her Finnish heritage, and she embodied "sisu" for all of us.
She designed and sewed clothing for the family. Jane was a good cook and baker and passed her skills to her children. She made her own wine, jams, jellies, and canned all the vegetables from her expansive garden. She enjoyed organic gardening and yoga. She loved needlework including knitting, crocheting, embroidery, and crewel work. She made special blankets for her grandkids, which most of them remember and many still have. She was an intelligent woman of many talents and taught her children to be curious about the world. The house was filled with books and music, laughter, and the wonderful smell of homemade food and baked goodies.
Jane was raised as an only child of Einard and Elvi Rengo. Her half-brother, Arne Rengo was 17 years old when she was born. Her older sister, Ayla, died at birth. Jane was very close to her many cousins who lived nearby.
In the seventh-grade, Jane won the state spelling bee and flew to Washington, DC, to represent Minnesota in the National Spelling Bee held May 25-29, 1948.
Jane moved to the Twin Cities after high school and earned her nursing degree at Swedish Nursing School. She went on to finish her bachelor's degree in nursing at the University of Minnesota. Jane worked as an RN in Minnesota and California. When she and Gerry moved to Rochester, Jane started working at Methodist Hospital (now part of Mayo Clinic Hospital). Jane worked as supplemental staff doing private duty at first and later as part of the float pool from 1963 until 1997, when she took a part-time post in Orthopedics at Methodist where she worked until 2005. Due to her many years of service, she was a member of the Mayo Clinic Argent Society.
In 1972, with five children 10 years old and younger, she began teaching nursing full time at Rochester Community College (now RCTC) while simultaneously pursuing her master's degree at the University of Minnesota. (She was grateful for the Civic League Day Nursery at a time when childcare outside the home was unheard of.) She retired from RCTC in 1997 to spend more time with her family and grandchildren. She would often encounter former students over the years, including when she was in hospice care. She was grateful to know she was in good hands.
Jane married Gerald Flickinger in 1960, and they were married for almost 50 years when Gerry passed away in 2010. She and Gerry had five children who survive her: Lynn Flickinger (Steve Hanna), Dawn (Greg) Saterdalen, Rob (Beck) Flickinger, Michelle Flickinger (Aaron Gordon), and Al (Amy) Flickinger.
Jane loved being a grandmother to: Celia Martin-Mejia (Jandin Mejia-Martin), Drew (Savannah) Saterdalen, Lexi (Zach) Reynolds, Dana Flickinger, Ian Flickinger, Max Gordon, Salem Gordon, Soren Gordon, Devon Gordon, Madison Flickinger, and Lauren Flickinger.
She was thrilled to be a great grandmother to: Frances and Grace Mejia-Martin.
The family extends their gratitude to Dr Ericka Tung, Mayo Clinic Hospice, Home Instead Senior Care, and Above and Beyond Senior Services for caring for Jane at the end of her life. Special recognition to Amy Sund, Desiree Lanzino, Cassi Princino, Hannah Stoner, and Karen Johnson. We are grateful to Lynn and Steve for taking Mom into their home during the pandemic and caring for her at the end of her life.
An open house to celebrate her life will be held from 1-4 p.m. Sunday, May 30, at Ranfranz and Vine Funeral Homes. A private interment ceremony will be held at a later date at the Bethel Lutheran Church columbarium.
Ranfranz and Vine Funeral Home is honored to be serving the Flickinger family; to share a special memory or condolence please visit www.ranfranzandvinefh.com