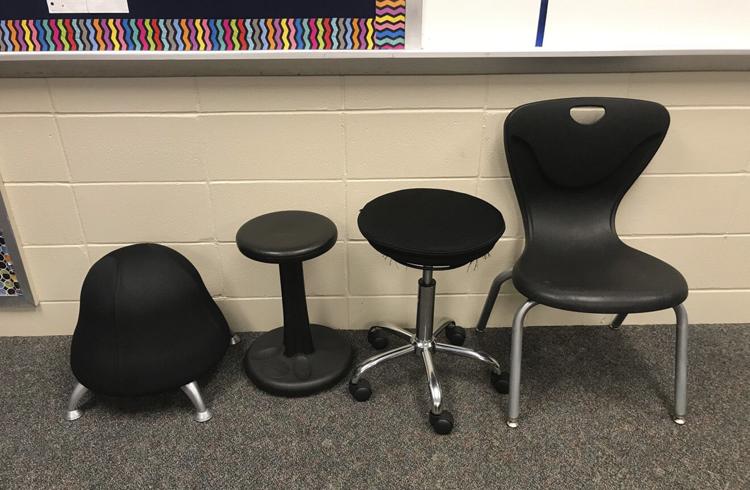 As elementary students prepare to return to school this fall, teacher Jessica Engleson at is preparing her classroom at Willow River School with specially designed seating for her wiggly fourth graders. 
Over the past 5 years, Engleson has been gradually adding more varied seating options for her students. While a chair may seem like just a chair, these stools or seats are specially designed to allow students to wobble, rock, bounce, lean — or just be wiggly. Engleson said these flexible seating options have improved her students' focus and reduced bad behavior in the classroom. 
"Flexible seating is important because most children don't have the ability to sit still for extended periods of time," she said. "Ideally, a classroom would have scheduled movement breaks hourly but when we aren't able to do that, the flexible seating allows that little movement in the meantime."
Engleson's personal experience says they work. 
"I have seen increased focus, less behavioral issues and less anxiety with the use of these chairs. We also have expectations for using the chairs and students work hard to keep their privilege of seating choice."
This year Engleson added four contoured chairs and two ball chairs at a total cost of $442. These chairs were funded with a DonorsChoose.org project — a website where teachers can post a plea for funding for a particular project. Local individuals made donations, which were then matched by SONIC Drive-In through their Limeades for Learning program.
Engleson was grateful, "Unfortunately, seating is expensive and public schools typically don't have the funding to change it often. So, teachers have to foot the bill if they want something different. I am incredibly thankful for the generous individuals and corporations who found it important to provide this seating for my students."