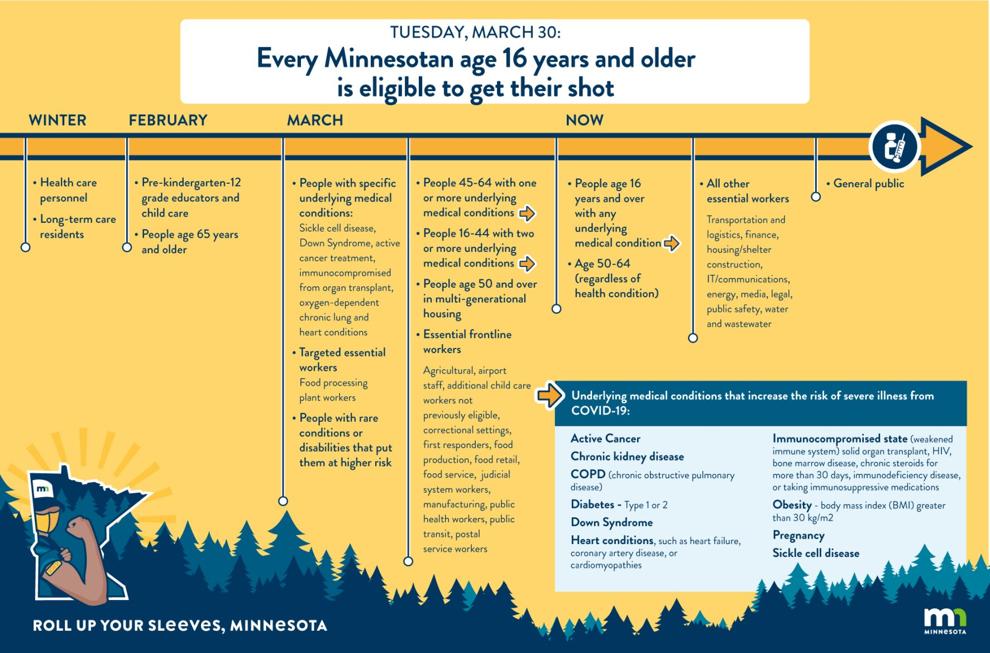 Locations and options for receiving COVID-19 vaccines continue to open up across the state of Minnesota. 
Current Center for Disease Control (CDC) and Minnesota Department of Health (MDH) guidelines allow for all Minnesotans age 16 and older to sign up for an appointment to receive their vaccines. This change by the Minnesota Department of Health and the Governor's Office began on Tuesday, March 30. Groups considered high risk, the elderly and frontline workers are still considered priority groups. Vaccination centers continue to follow MDH and CDC guidelines on who receives vaccine priority.
Resources and locations for COVID-19 Vaccines in Carlton County are:
Carlton County Public Health 
Calling (218)499-6310 to register for an appointment is the best way to receive a vaccine through Carlton County Public Health according to Meghann Levvitt, Carlton County Public Information Officer. Information about appointment availability is regularly shared through the Carlton County Public Health Facebook and website. As 
weekly allocations continue the county works to provide up to date availability for those registered. Levvitt also said that they work with community and area registered vaccination sites to coordinate appointments if they run out of available doses at their clinics. 
To be added to the list for periodically provided doses at the Cromwell Medical Clinic, call the clinic at 218-644-3811.
Essentia Health Moose Lake
Both patients and non-patients requesting a vaccine with Essentia Health Moose Lake can do so by accessing MyChart, an online communication portal used by Essentia Health for doctor to patient communications. A form is available there for patients to complete. They can also call the Moose Lake facility directly at (218) 485-4481 or an Essentia wide number at (833) 494-0836. 
Vaccination clinics usually occur weekly at Essentia Health Moose Lake, usually on Fridays according to Trina Lower Director of Operations for Essentia Health. Essentia follows all CDC and MDH guidelines on who is eligible to receive vaccines. Lower also stated that consistently Essentia Health Moose Lake has been receiving Pfizer-BioNTech vaccines for their allocations but may receive vaccines from Moderna as well as Johnson and Johnson. It all depends on the allocation they receive from the government. 
Lower wants to remind those going in for their second vaccine doses not to forget their CDC vaccination card. 
Gateway Clinic Moose Lake
Patients on the waitlist are contacted by Gateway Clinic staff when they know an estimated allocation for each week, usually this happens on a Thursday according to Eric Nielsen, Administrator at Gateway Clinic. Gateway receives vaccines on Wednesday and then administers them on either Thursday or Friday following that Thursday estimate. 
Patients are encouraged to get on the Gateway Clinic waitlist, so that they can be contacted when they are eligible for their dose. To get on the waitlist patients should complete a questionnaire either online at https://gatewayclinic.com/covid-vaccine-request/ or by calling the Gateway Office at 218.485.4491. The questionnaire can also be completed by a friend or family member with the internet for those with limited computer access.
Thrifty White Pharmacy Moose Lake
Thrifty White Moose Lake located at 60 Arrowhead Lane, Moose Lake, MN can be reached at (218) 485-4401 to register or check vaccine availability. Appointments can also be registered for online by checking their availability at https://www.thriftywhite.com/covid19vaccine.
Vaccine eligibility information
Those eligible to receive the COVID-19 vaccine currently include: 
Minnesotans 65 years of age or older

Health care personnel

Long-term care residents

Educators and child care personnel

People with specific underlying health conditions

Sickle cell disease, Down Syndrome, or oxygen-dependent chronic lung or heart conditions, and those who are in active cancer treatment or immunocompromised from organ transplant

Targeted essential workers

People with rare conditions or disabilities that put them at higher risk

People 45 years of age and older with ONE or more underlying medical conditions; or, age 16 and over with TWO or more underlying medical conditions

People 50 years of age or older in multi-generational housing 

Essential frontline workers

Minnesotans 16 years of age and older with any underlying medical condition

Minnesotans age 50-64 (regardless of health condition)

All other essential workforces