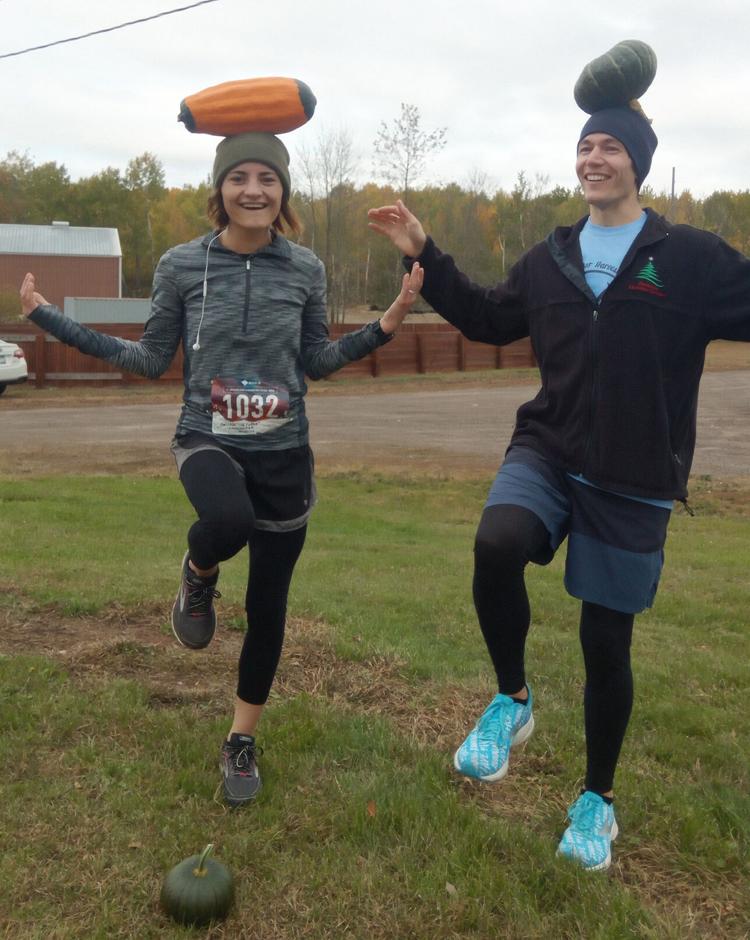 The Loons, a local running/hiking club, hosted the Loonar Harvest Races October 3rd. Our races included a 10K, Half Marathon and a Virtual Half Marathon. The races featured "Winner Squash" awards, "Squash Hill", mid-course hopscotch, costumed runners, "Power Up station", Chamber Bucks giveaway and handcrafted wooden spoon door prize. Hosting an in-person race during COVID was challenging. The running community enjoyed the spirit of comradery. Thank you to our volunteers, donors, Valley Printing, City of Moose Lake, DNR and Moose Lake Brewery. This couldn't happen without their support!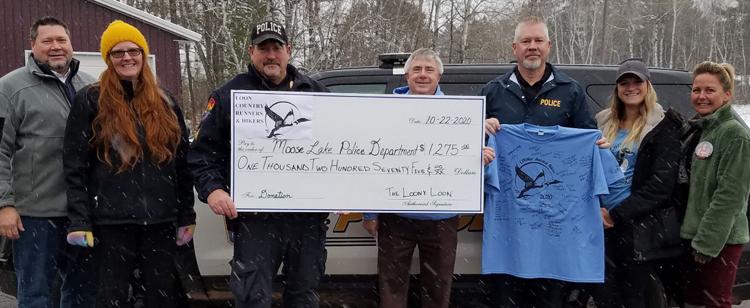 The event raised $1,275 for the Moose Lake Police Department for use toward ATV trail safety, signage and re-routing away from residential areas. During the races, we were amazed by the community members that stopped to donate. If you would like to donate, you can drop off a check payable to the City of Moose Lake at the City offices or First National Bank. 
In the 10K, 14-year-old Elliot Wasche needed a personal best of 45:48 to hold off the Duluth speedster, Dan Duff (46:14), for the overall victory.  Local runner, Megan Nielsen (53:04) took home the 10K "winner squash" as the top female. Hearts followed Maddy Stewart (1:07:26) as she ran in memory of Gary Fenice, her dad. Mary Hofmann (2:11:54) brought in her gang of young first time 10K-ers to round out the race. 
In the Half Marathon, local running coach, Nick Allard, literally hurdled the finish line barricade to take the overall victory with a blistering time of 1:27:11. Bill "Wrong Way" Pomerenke was about 10 minutes behind Nick. Kathryn Longhofer (1:47:22) was the top Female. Kathryn challenged Nick to a post-race "Winner Squash" balancing contest involving yoga poses. Rachelle Wasche watched Sarah Kroschel (2:14:30) completely crush her old personal record!
The 15 Virtual Half runners came from Minnesota, Nebraska and Wisconsin. To add a twist, we deducted 1-minute of time for every 100 feet of elevation gain. Jim "23" Wilson started some hilarious trash talking by calling out Angela Barbara. This resulted in the Race Director implementing a 1-minute deduction for every "A" in the participant's first and last name. Our Virtual winners were Matt Bartz of Milwaukee (1:37:17) and Theresa Richied of Mahtomedi (2:05:00). The title for King/Queen of the Mountain was a real battle between Duluthian Shelly Thompson and Chris Hug of Omaha. Chris was crowned Queen with a whopping 2510 feet! 
The Loon Club is a growing community of area runners, walkers and outdoor enthusiasts. We get together for weekly runs/walks and day trips that have included hiking the Superior Hiking Trail, snowshoeing and kayaking the Moose Horn River. Interested in joining? Contact Rick Bothwell at First National Bank of Moose Lake.