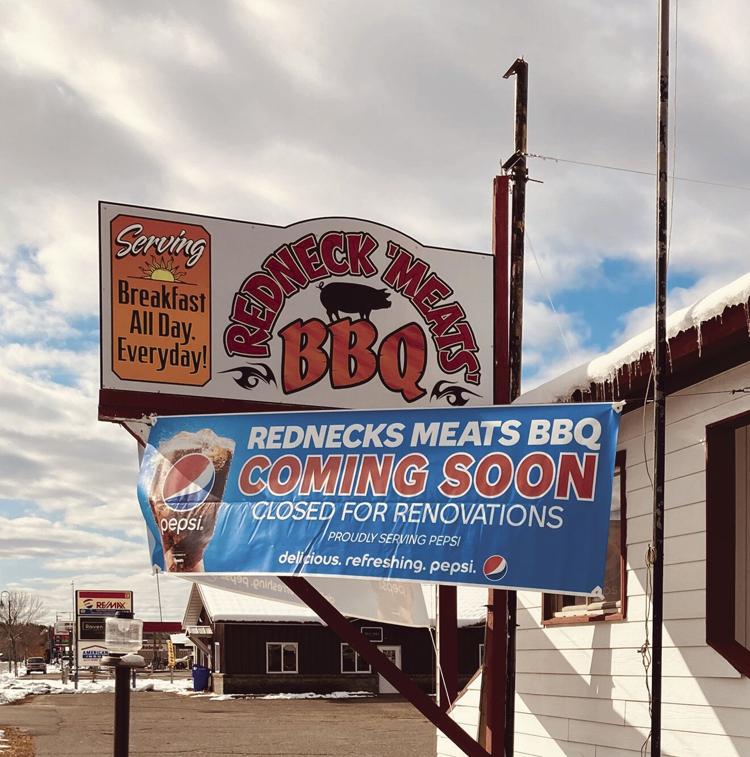 After 14 years of owning one of Moose Lake's favorite local restaurants, Cheryl Fitzgerald sold the iconic Arts Cafe to family friends, Dinel and Lance Hollarbach.  What was formerly known as Arts Cafe will now be called Redneck Meats, a barbecue business that has been 18 years in the making.
It was roughly 19 years ago when the Hollerbach's were asked to smoke a whole pig for a 90th birthday party.  "Lance found an old roaster so beat up it had a tree truck going through the middle of it," explained wife Dinel Hollerbach, when asked how the business began.  
Hollerbach patched up the roaster the best he could and made do with the old piece of equipment in-order to provide a whole pig for the party.  "He was always called a redneck, so it wasn't long before we started calling the roaster the redneck roaster."  The party was a success and the Hollarbach's continued to receive more requests to smoke bacon, ham, and other meats for events.  
Eventually, the couple converted an old deer shack into a smoker, and three years ago when they purchased a food truck, it was inevitable as to what the business's name would be.  "We've caught some slack for the name Redneck Meats," shared Hollarbach, "But it is not meant to be racist or derogative.  To us, it was funny."  
Former owner Fitzgerald admits she is a little worried about the name change.  "Only because it had a good reputation as Arts Cafe and that is what many of the locals and out-of-state visitors knew and loved it as."  Other than that small concern, Fitzgerald couldn't be more happy and excited for the new owners.
"I think we both cried when the deal was done," confessed Hollarbach.  "It was Labor Day weekend and we worked everything out at our food truck."  Hollarbach has been restaurant managing since the age of 18, and she is adamant about finishing up all renovations, staff trainings, and food prepping by the grand opening of Redneck Meats on November 1st.
The barbecue joint will serve breakfast, hand-cut steaks, smoked pulled pork, freshly baked biscuits, barbecue ribs on Friday and Saturdays, and many other made-from-scratch goods.  
Customers can still expect bits and pieces of the old in with the new.  Among new booths and countertops there will be images of the old Arts Cafe and Dix menus displayed on the counters, and in the back room will hang a sign that reads, "3 families become 1. Pick a seat not a side. Redneck Meats, Arts, Dix." 
The Hollarbach's still plan to continue their food truck and are available to cater special events.  They will also be open for trick or treaters on Saturday, October 31st at 3 p.m.  All are welcome and they will have to-go menus available for folks to grab.