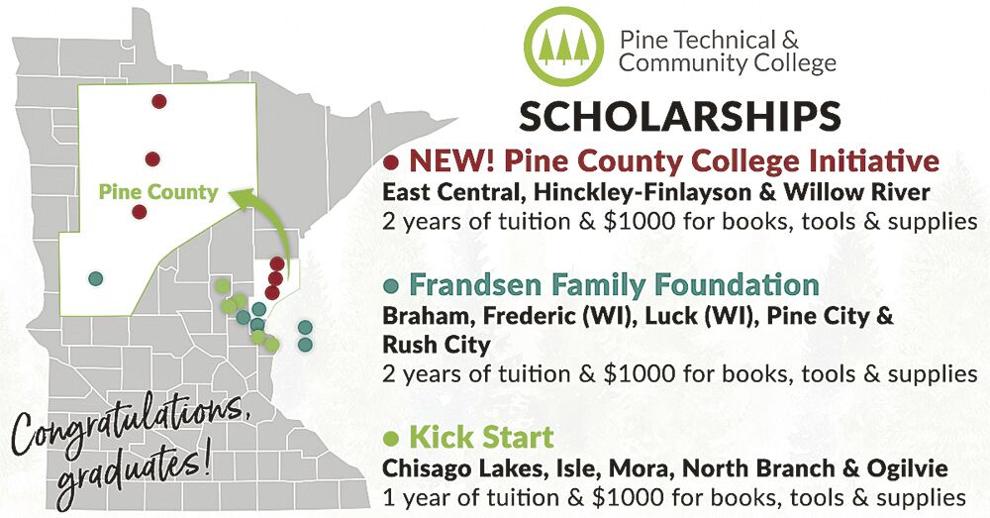 There is only one county in the state of Minnesota where all high school graduates have the opportunity to attend college for free.
That county? Pine County.
Pine Technical and Community College (PTCC) has announced that a new scholarship opportunity has opened for 2020, 2021 and 2022 graduates from Hinckley-Finlayson, East Central and Willow River high schools. The Pine County College Initiative (PCCI) scholarship covers two years of tuition for students and up to $1,000 for required books, tools and supplies.
In April, the Frandsen Family Foundation announced scholarships for two years of college for all 2021 Pine City High School graduates, also offering a $1,000 stipend. The addition of the new PCCI scholarship means that all Pine County students seeking a career in the skilled trades can get a two-year college degree at no cost.
Pine Technical and Community College President Joe Mulford noted that the scholarship programs will also cover students at private schools like Harvest Christian Academy as well as home-schooled students.
"The addition of the PCCI scholarship at PTCC creates more opportunities for students in our region to acquire the high-demand skills employers need," Joe Mulford. "This partnership between the county, school districts and the college is a one-of-a-kind resource to help students reach their goals in the most unique way."
Though the Pine City scholarship is provided by the private non-profit Frandsen Family Foundation, Mulford said the PCCI program will be paid for through stimulus funds awarded to Pine County to be used for workforce training. Additional funds for the program will come from stimulus money awarded to the college itself.
With the addition of the new PCCI program to the existing Kick Start scholarships and Frandsen Family Foundation scholarships at PTCC, Pine County students now have the option of one (Kick Start) to two years (Frandsen) of college tuition free, plus $1,000 for required book, supplies and tools.
"The county invested in ... our young graduates, coming out of high school," Mulford said. "Those resources then are applied to one of the largest employers in our county – the college. This is a big deal for us as an institution to help us continue to grow and be more vibrant. And we know many of these students will stay and become nurses in our communities, manufacturing technicians in our communities."
Mulford said he believes these scholarship programs will bring in stateside attention on all the positives Pine County has to offer.
"It puts Pine County in a position to say, 'We've got things going on here, especially around workforce development,'" Mulford said. "That would hopefully spur on some economic development opportunities. If you're a company looking to relocate ... this is pretty interesting."