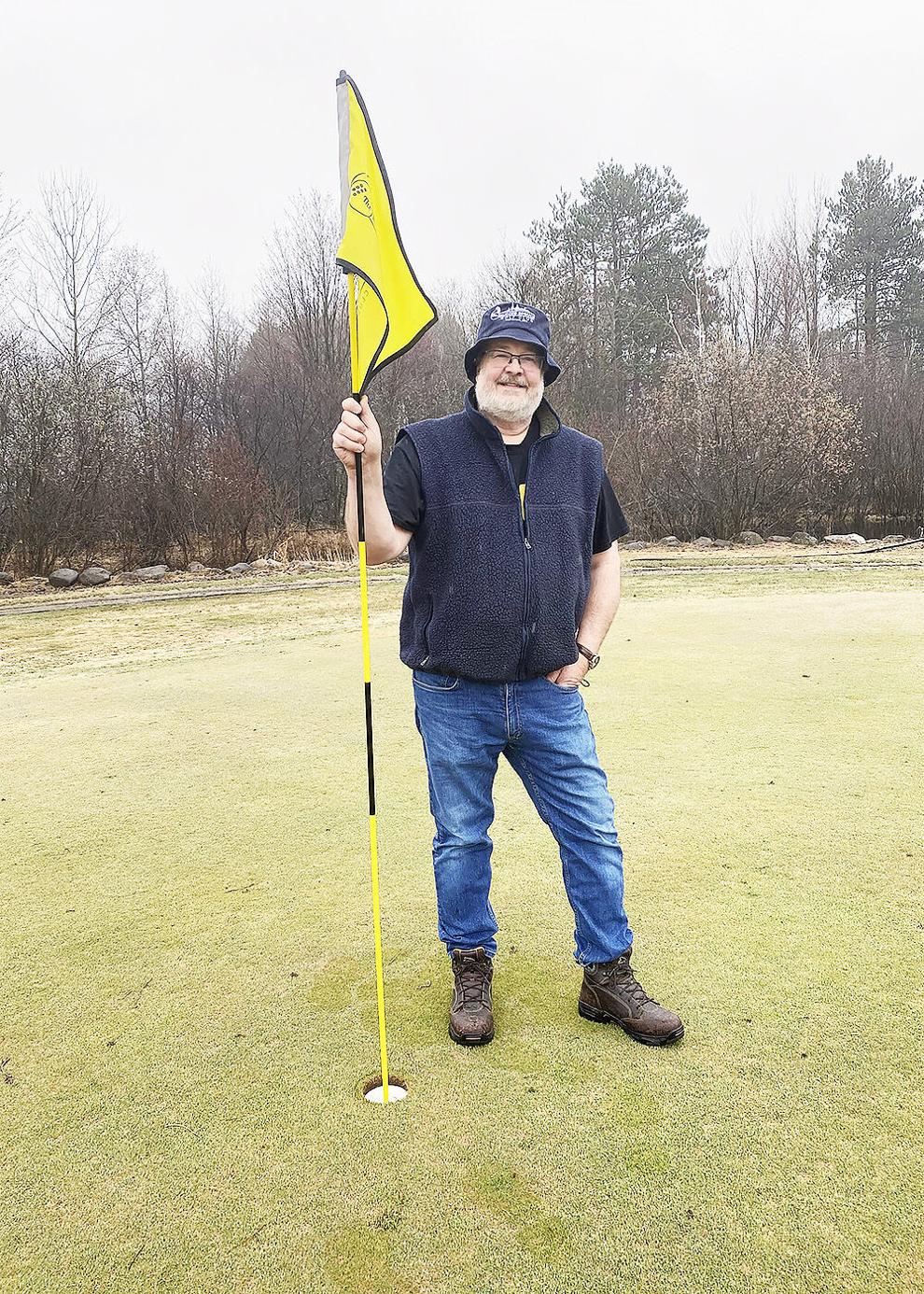 Green and white golf carts are lined up in a neat row waiting for golfers. Light drizzle creates the shimmering raindrops that decorate the cart tops. The droplets reflect a serene scene of song birds twittering enthusiastically while playing in puddles among neatly trimmed pine trees on an empty golf course.
Jim Myhre doesn't let the rainy weather dampen his mood as he stands inside his quiet clubhouse. He is optimistic about the future of the golf course that Fred and Dorothy Branham opened roughly 40 years ago in Mahtowa.
Myhre purchased the former 29 Pines Golf Course in September 2020. He has been working to breathe new life into the course and renamed it The Rugged Spruce Golf Course to avoid confusion with a similarly named course in Carlton. The 55 year old said he needs a project to occupy his time after his retirement as a long time corrections officer. His wife, Colleen, told him she always imagined him owning a golf course in his retirement and everything fell into place.
The lifelong Mahtowa resident said the new business also revitalized him.
"I've laughed more in the last six months than in the last 17 years," Myhre said with a huge grin. He said he enjoys the company of the customers when they stop by the clubhouse to visit.
Suddenly the front door burst open and Wendel Bernstrom and Shanna Dahlberg blew into the newly remodeled clubhouse. The inside of the clubhouse sports a new coat of paint, wallpaper trim, tables, chairs and several television sets perched near the ceiling.
As the duo admire the changes, Bernstrom is excited about the televisions. 
"Wow, it looks great in here," Bernstrom said. "And the tv's are on. Will you have the Twins games on?" Of course there is only one answer to that question. 
They ask about leagues. Yes, there will be a two man league, a women's league and a junior league, Myhre said. He explained that he's still working on the final details as he learns the intricacies of running a golf course. 
Myhre said local businesses and other golf course owners have been very helpful with business advice. They sell him items to help make his business a success, such as additional golf carts for the increase in customers he expects to see this year. 
Myhre also supports other local businesses. He purchases meat from TJ's Country Corner to make hamburgers in the clubhouse kitchen and serves Mango Ale from Moose Lake Brewery.
Myhre said several people take turns cooking meals in the kitchen.
"Our cook is amazing," Myhre said enthusiastically. " People come out here just to eat. We sold more food than booze in the winter." 
Between COVID-19 and his wife's musical connections, providing local music talent during the quiet winter months was a no-brainer. Myhre livestreams the musicians on the business Facebook page. He said they make enough money to pay the musicians, although several declined to accept the pay. 
The clubhouse is currently open 11 a.m. Friday-Sunday for food, brews and conversation. The kitchen closes at 8 p.m.
The course officially opens seven days a week at 8 a.m. Saturday, May 1, weather permitting. For more information call 218-389-9754.