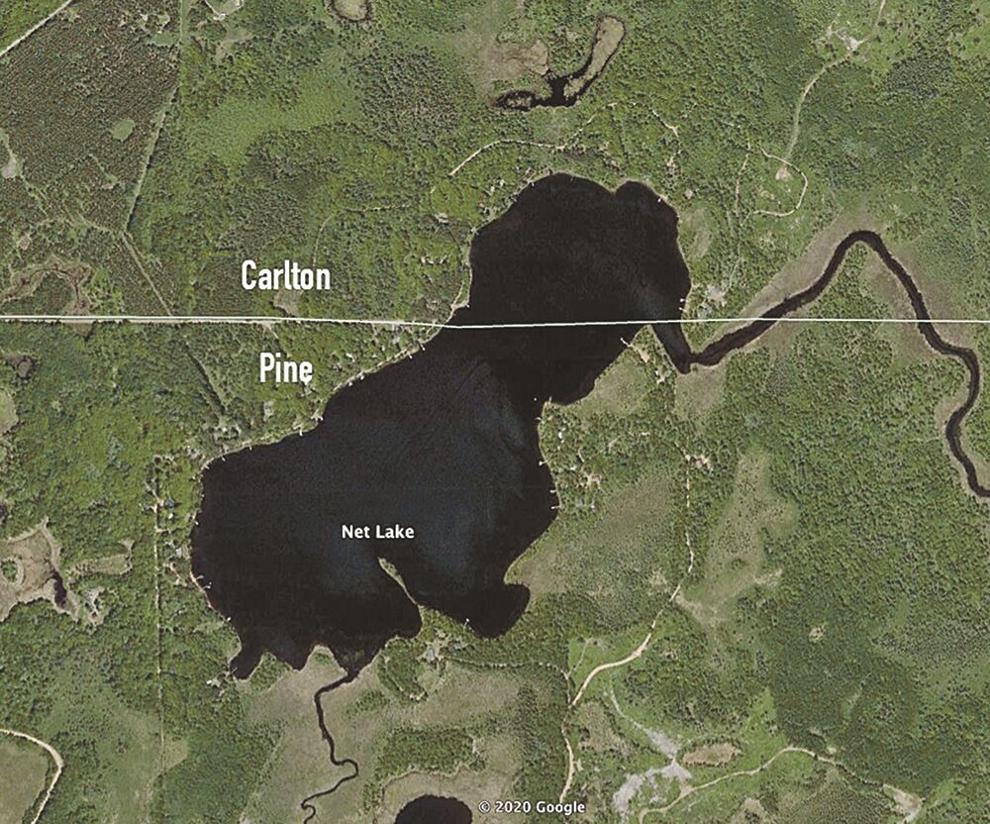 The Nemadji River Watershed only covers a small area of Pine County, but the recently approved Nemadji Watershed Plan budget could have a big impact on the 20 or so property owners with homes and cabins on Net Lake on the county's northern border. 
The watershed covers around 433 square miles in Carlton and Pine counties in Minnesota and Douglas County in Wisconsin, bringing together waters that flow into Lake Superior. 
Pine County Land & Resource Manager Caleb Anderson asked the Pine County Board of Commissioners to approve a $250,000 allocation of Minnesota state funds for the watershed, which includes $14,336 in forest management in Pine and Carlton Counties, $10,000 for a septic system study on Net Lake. 
Anderson noted that only  about 3% of the Nemadji watershed is in Pine County, and the majority of that land area is in state parks. 
However, he said that Net Lake, which sits on the Pine County-Carlton County border has been identified as an "impaired lake" by the state, exceeding the pollution threshold for phosphorous.  
Anderson said a sediment core study was done on Net Lake. This type of study examines the annual layers of  sediment on the lake bottom much like botanists might examine the rings of a tree. The study shows that there was a large increase in the lake phosphorous in the 1970s, which coincides with cabin development on the lake. 
Anderson said that his department and staff in Carlton County are proposing a septic system assessment along the lake to see if any septic systems along the shore are creating imminent health threats, and if there may be sewage being pumped directly into the lake.  
"Other communities that have done this have taken regulatory action on the most polluting of those," Anderson said. 
"It can be contentious, those types of thing," Anderson added. "Some counties have done that county-wide, every single residential property. This is a very finite project, that is looking at a very specific area connected with the water."
He said that they could offer property owners on the lake low interest loan programs to improve their septic system. 
Pine County Commissioner Steve Hallan asked if Pine County would be responsible for any operating expense of the watershed district.
Anderson said no, it would not, that all programs were paid for with state funds. He said that if there were any changes to the budget, those changes would have to be approved by all of the counties in the watershed. 
"I'm assuming all of those people want their lake as clear as possible," Hallan said. "Pine County does have a very good program for septic system fixes, and maybe there's grant money that can help them further. So I think they're pretty well covered. Maybe 17 [of the 20 property owners] are already in compliance."
Pine County Commissioner Matt Ludwig said he would prefer a "soft approach" – possibly a survey – be used to let the residents know that the septic system study is coming to Net Lake. 
"I do understand the importance," Ludwig said. "Net Lake is the headwaters of that river. If the pollution is starting there, it needs to be looked at."
Pine County Commissioner Terry Lovgren said she knows some of the homeowners living on the lake,
"This would be a real hardship for them," Lovgren said.  "Even if it's a septic loan at 1% interest, it still will be a hardship for them to pay that back. What are their other options ... if they can't do that? "
Anderson said that grant programs may be available, as well as loan programs from Lakes & Pines. Currently Pine County is extending loans to homeowners to upgrade their non-compliant septic systems through a Cleanwater Partnership Loan from the Minnesota Pollution Control Agency. 
Anderson noted that there will be more issues to address once the other watershed plans affecting Pine County have their budgets worked out, including the Kettle River Watershed, the Snake River Watershed, the Upper St. Croix Watershed and the Lower St. Croix Watershed.