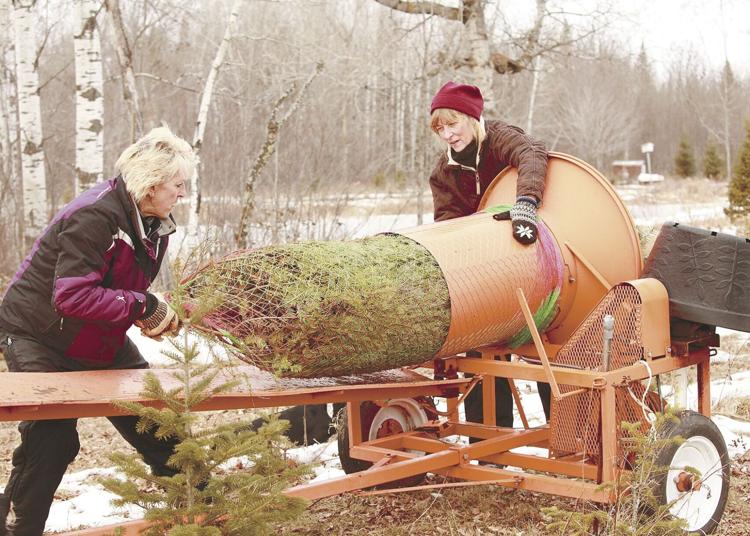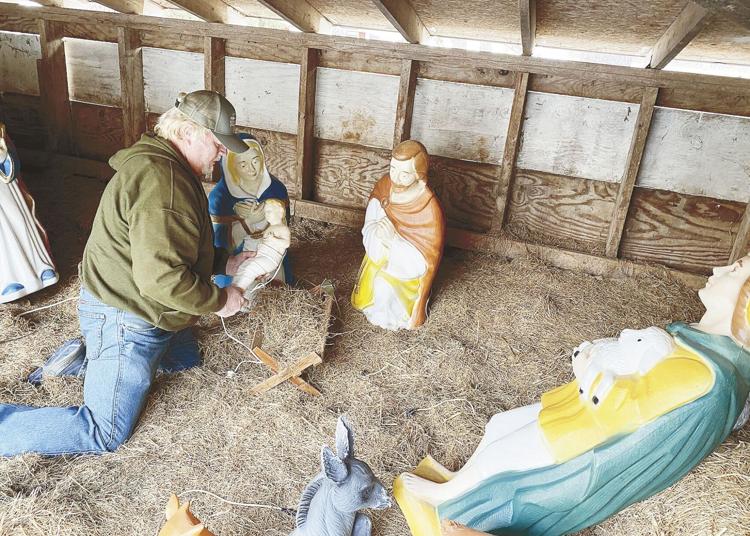 The Christmas spirit is alive and well at local tree farms.
A steady stream of trucks, sport utility vehicles and cars pulled into the Vichorek Tree Farm on the outskirts of Moose Lake Saturday, Dec. 5. Vichorek family members kept busy cutting trees, wrapping them in netting and securing them to the tops of the vehicles.
 A few customers chose pre-cut trees and others cut their own tree.
Selena Stevens and her daughter, Eloise, 7, made the trip from Sturgeon Lake to cut their Christmas tree. After walking up and down the rows, they found the perfect tree and cut it down with a hand saw. Mother and daughter wore matching grins as they dragged their tree to have it wrapped in netting for the ride home.
"It's not as bad as I thought it would be," Selena said. She said it was her first time cutting down a tree.
Farm owner Deanna Vichorek said people began stopping by before Thanksgiving this year. The customers told her they were looking for a reason to get out of the house and a little bit of normal in the year of COVID-19 and stay-at-home orders.
"We sold 81 this year," Deanna said. "We sold more before Thanksgiving than we have ever done. This is a different year this year."
She said the numbers fluctuate each year, but they sell an average of 200 plus trees a year on about 30 acre of the family farm.
Deanna and her husband Jeff did not originally plan to have a Christmas tree farm. 
The family was involved with the Moose Lake Hockey organization when it was in the beginning stages in the early 1970's, according to Jeff. He was coaching his two young sons hockey teams. He said the organization began to sell Christmas trees as a fundraiser.
 For the first few years they purchased the trees to sell.
How hard can it be to grow a few trees? It turned out to be more work than the family realized. 
"It's a long range project," Jeff said with a laugh. "And the pay's not great."
The 84-year-old said that while growing trees is a labor intensive job, he is proud of the finished product. He stopped donating trees to the hockey organization many years ago when interest dwindled.
While he enjoys taking care of the trees, his favorite part of the job is talking with the customers. 
"People shopping for a tree are rarely crabby," Jeff said as he greeted customers. 
About 20 miles away outside of Kettle River is the Butkiewicz Family Farm. The 650 acre farm has been in the family over 100 years and has changed with the times when needed, Rory Butkiewicz said.  
The farm was originally a dairy farm for decades. They added other products and services over time, such as selling beef and lamb as well as a landscape business.
The family also participated in erosion projects which included planting pine trees near bodies of water on the farm.
Rory said they began to sell Christmas trees in the 1980s. His dad, Louis, 87, still lives on the family farm that he was born on. He is proud of the farm and the various projects, including selling trees.
"My dad is still the boss," Rory said. He said the farm has hundreds of trees in a variety of sizes for customers to choose from. The most popular are spruce and balsam. Customers drive on a path through a pasture to a stand of pine trees, where they choose the perfect tree. Rory said his farm is strictly a cut your own tree farm. 
Rory makes an exception for senior citizens who can no longer cut their own tree.
Home made jams and jellies are also available for sale at the house.
Customers and neighbors also enjoy a drive through Christmas Lane on the farm. Rory's mom, Carol, began the tradition about 50 years ago. Rory continues to set up the drive thru display in his mom's memory. He said it began with a Nativity scene that Carol ordered through the Montgomery Ward catalog in the early 1970s. He still has the original pieces and sets them up in a shed filled with hay. Many of the scenes are rotated each year. There is also a John Deere tractor decked out in twinkling lights. It is a farm after all.
The light display takes several weeks to set up. Rory said it is worth the work and he plans to continue to do it as long as residents keep visiting. 
Guests are encouraged to drop off food for the Moose Lake food shelf near the light display in a special mailbox.
The Christmas Lane light display opens 5-10 p.m. Saturday, Dec. 12. 
Both families ask that customers call ahead and set up appointments before coming to get a tree.