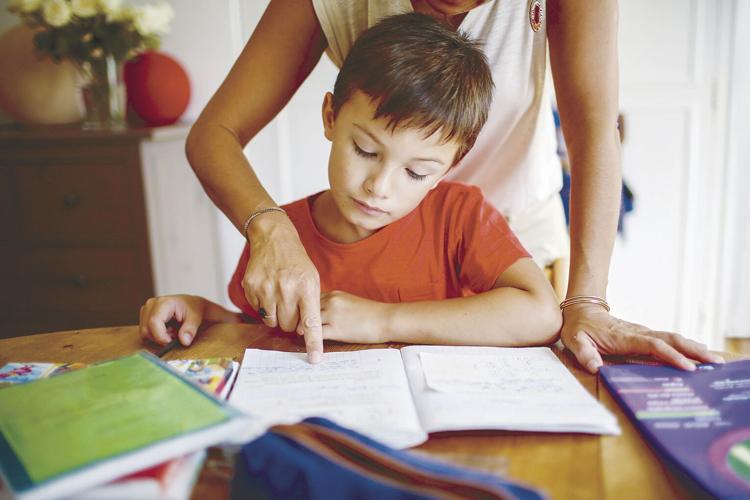 An increasing number of parents and students have made the decision to homeschool this year. 
Close to 40 students across Barnum, Moose Lake and Willow River School Districts have chosen to navigate this change. Increasing COVID-19 cases have caused families to consider homeschooling as an alternative way for their students to learn. 
Last spring students, teachers and school districts were forced to rapidly switch from in-person teaching to distance learning. For some families this abrupt switch came with frustration and difficulty. Feedback provided by a family that had decided to switch to homeschooling at a Moose Lake School Board meeting during planning for the present year cited these frustrations as their reason for switching. Another family expressed concern that they had learners in several grades at home, and the switch to distance learning for all of them was too much to keep up with.
Determining if homeschooling is the right choice for your family is complicated by COVID-19. The process of signing up to homeschool has stayed the same even in the pandemic. 
Guardians wanting to homeschool their students, age seven and older, for the first time are required to file a Letter of Intent to Homeschool and then a Letter of Intent to Continue Homeschooling every year after. This Letter is more of a form and must be filed with the school district superintendent by October 1 or 15 days after the student is withdrawn.
 On it proposed educators for students aging seven to 17 are required to list the students name, age and address. Students that are first time homeschoolers or at least 12 are required to submit their immunization records or file a notarized statement of contentious beliefs.
Homeschool instructors in Minnesota must meet one of the five following qualifications in order to be allowed to homeschool students: hold a Minnesota teaching license in the field and grade taught, be directly supervised by a licensed teacher, successfully complete a teacher competency exam, provide instruction in a school that is accredited or recognized by the state board, or hold a baccalaureate degree.
Minnesota Department of Education recognizes only Home-Based Educators Accrediting Association as an accrediting agent. Homeschools do not need to be accredited, but those that are have the annual mandatory nationally recognized testing requirement waived. For those homeschools that are not accredited, the planned test is a required part of the Letter of Intent form. Home educators are required to provide the school superintendent with the information on which achievement test will be administered. 
Educational standard courses for each grade level remain the same, but curriculum is created by the guardian submitting the Letter of Intent. Course requirements include reading, writing, literature, fine arts, math, science, history, geography, economics, government, citizenship, health, and physical education.
In addition to transitioning to homeschooling an increasing number of students are enrolling in school through an online provider. 
Funding for schools is based primarily on their estimated attendance. For every student that switches from regular attendance to homeschooling the school district loses the funding for that student. If a large fluctuation in the estimated number of students occurs the planned school budget could be negatively impacted. In September the preliminary levy is set by the school board. This decision is based on the estimated funding availability based on the estimated number of students enrolled. The final budget decision is completed in December and can be no higher than the preliminary levy from September. 
Moose Lake Community School Superintendent, Billie Jo Steen broke down the impact that the 24 students from her district will have. "The impact on us is significant.  This means there are 24 students that we thought we had funding for and planned for and will not have here at school.  This will result in $157,608 less revenue coming in via the funding formula.  If that had happened earlier in the spring we could have possibly adjusted personnel but teachers are on an annual contract so there are timelines we have to meet in order to reduce staff.  Likewise with the 14 students who are transitioning to an online provider.  That accounts for an additional $91,000 in lost revenue.  Beyond the financial impact, we miss our students and hope that they are doing well with their chosen learning mode.  We know it's a crazy year and parents had to make some hard choices and we certainly want to continue to support them through this pandemic," said Steen in an email update on enrollment numbers. 
Moose Lake Community School reports having an estimated 24 students new to homeschooling this year and 14 who are transitioning to an online provider. They are reporting the highest number of transitioning students with Willow River reporting an estimated four students and Barnum an estimated nine. 
COVID-19 has caused significant changes in the way students are getting access to education. An increasing number of first time homeschoolers are navigating these regulations.