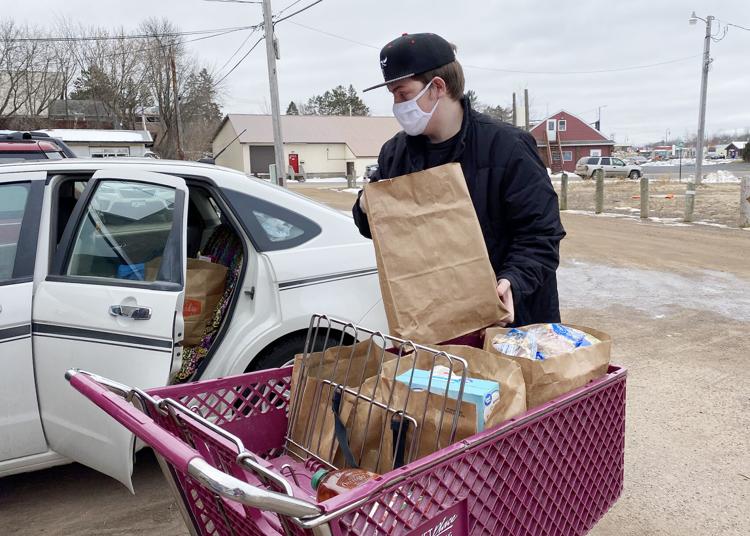 The Moose Lake Food Shelf is doing well, thanks to the generosity of the community, according to Pam Zimmerman, manager.
In 2019, there were a total of 1,369 visits to the food shelf throughout the year. That breaks down to a total of 317 families ranging in size from one to 10 plus members from southern Carlton County and northern Pine County. The food shelf served 123 households in November 2020, compared to 94 families in April.
She said the food shelf saw a drop in use after stimulus checks were sent out earlier this year, but is starting to see an increase again. She notes that it is normal to see an increase at the food shelf during the winter months but this year is unusually busy.
'We are here to get them through the tough times," Zimmerman said.
Heidi Wilson agrees. "It has helped tremendously," Wilson said. "If it wasn't for this place we wouldn't have survived."
She moved to the area from California about two years ago. Even though she works, at times she struggles to make ends meet. Her 22 year old son and a two year old grandchild live with her.
"I try not to have to visit the food shelf every month," Wilson said "But I work as a mental health worker and sometimes things get tight." 
Wilson said she is impressed with how much the Moose Lake Food Shelf helps. Besides food, they help with diapers for her grandchild and occasionally cat food.
Zimmerman explained the food shelf uses donations from the community to help purchase food through the Second Harvest Northern Lakes Food Bank. Donations also come in from local food drives from various organizations and groups.
"I'm always in awe of what people can accomplish," Zimmerman said.
The food shelf provides basics such as canned fruits and vegetables, sugar, oil, pancake mix, frozen meats and more. 
Residents who fall into 300% of the poverty level are encouraged to show up 8:30 a.m.- noon Fridays or 3-5 p.m. on the first Wednesday of the month. A family of one needs to make under $791 a week to qualify. The food shelf is located in the basement of Joe Jitters at 308 Elm Avenue. Food pick up is in the alley behind Joe Jitters. For more information, visit the Moose Lake Food Shelf Facebook page or call 218-382-0058.