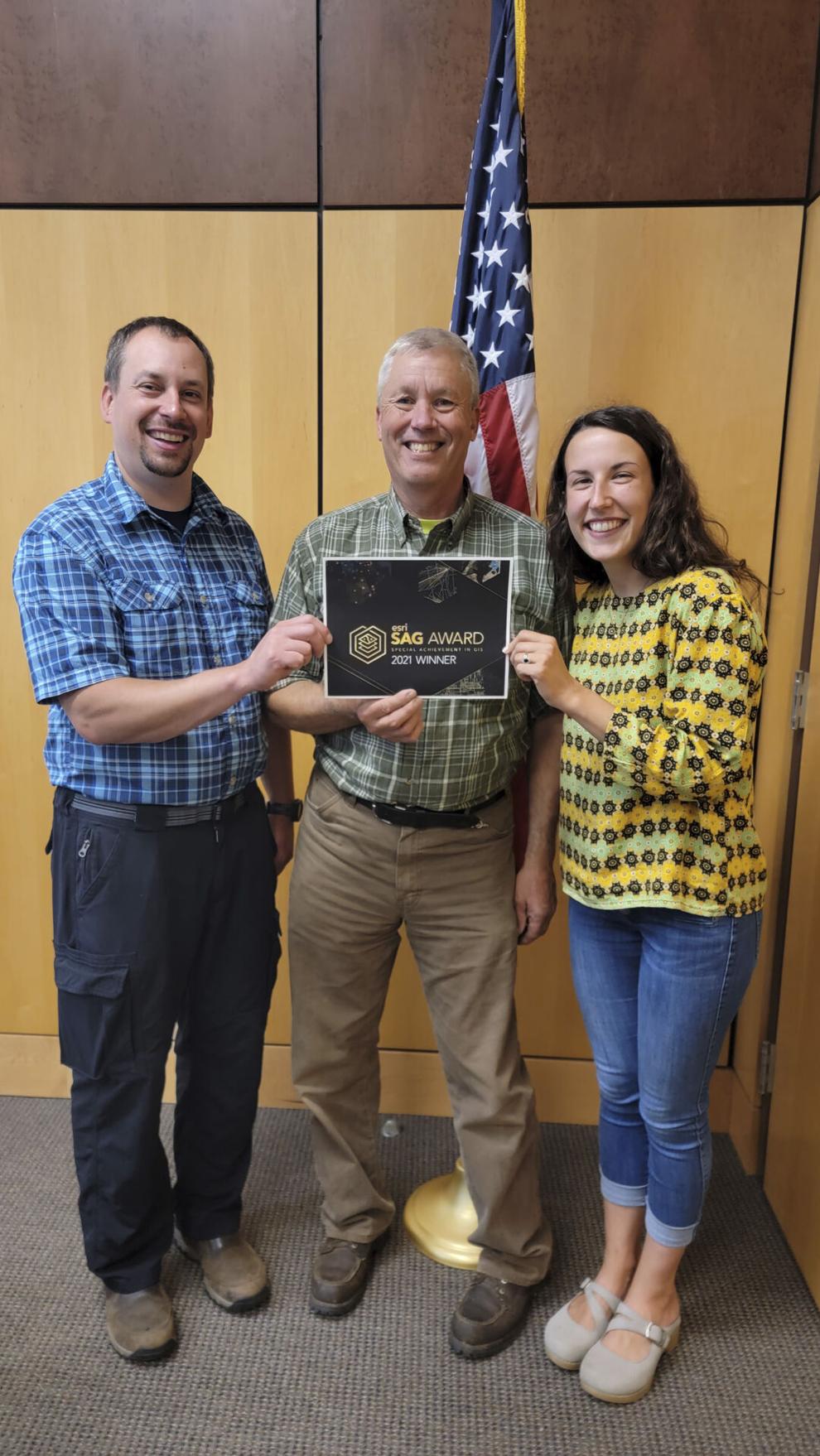 National recognition has come to our Carlton County government with the GIS (Geographic Information System) team, Coordinator Jared Hovi and GIS Specialist Siona Roberts, awarded the prestigious SAG (Special Achievement in GIS) Award for their work creating a digital tracking system for those residents wishing to be vaccinated during this COVID-19 pandemic.
The goal of the team was to eliminate paper forms and limit human contact while Carlton County Health and Human Services chose to use a drive through clinic for vaccinating. This effort turned into a pilot program for COVID-19 vaccine dispensing. Digitally, people were preregistered, records were kept, feedback monitored, and 24 hour data upload went into the state record system.
In a moving presentation Greg Bernu, Carlton County Land Commissioner, commended his team. "I am very proud of this team," he said. "There is only a handful of people that are recognized when SAG Awards are given out every year. This shows the quality of these staff people and how smoothly the staff of Carlton County work together to make a difference."
Specialist Siona Roberts is soon off to graduate school. Bernu continues, along with Hovi, to oversee the growth and impact of the GIS program as the application of the technology expands.
Bryce Bogenholm addressed the County Board on concerns that County Road 13, east of Moose Lake off of County Road 8, was going to be turned from a tarred road into a gravel road. He said many of the homeowners were outraged.
"I got this letter in the mail last week announcing the County plans with no warning," Bogenholm explained. "Other than filling potholes, no other work has been done on the road for 30 years. You don't treat people this way."Bogenholm went on to explain that he chose to build his house and farm in that area because of the tar road.
County Highway Engineer Jin Yeene Neumann explained that there is only limited funding for the 450 miles of road the County has. To fix it right she felt it would take $2 million to rebuild the road and tar it. She said only 105 cars use that stretch of road in a day.
Neumann did say that the County was studying alternatives to find a cost effective road that the neighborhood would support. A proposal may be ready by December for consideration.
Zoning Administrator Heather Cunningham got approval for fee changes at the Transfer Station. Long lines waiting to enter the Transfer Station have plagued the Highway 210 traffic corridor. Cunningham hopes that new guidelines for handling construction debris, household garbage and an exit driveway will ease congestion.
"Each week homeowners will come with one or two bags of garbage to the Transfer Station," explained Cunningham. "I know I will get complaints but we need to reduce the traffic into the facility. We have been charging $2.00 a bag but now will charge $10.00 per cubic yard."
Mixed waste, un-bagged garbage and large bulky items will be charged $15/yard. Demolition will be encouraged to come on Wednesdays and will be charged a reduced rate of $56.69 per ton. New rules and pricing starts September 1.
Economic Development Director Mary Finnegan reported that hookups to the new Twin Lakes Township waterline will range from $3,000 to $10,000 depending on the distance buildings are off the waterline. The township residents using the waterline face three cost impacts – cost of monthly water usage, a Township assessment for waterline construction, and the individual cost for hooking up to the system. Low interest loans are being studied and soon will be explained to those affected.
The Fond Du Lac Band is requesting 105 land parcels be added to Reservation lands. Most parcels are within Reservation boundaries. There are some islands in the St. Louis River and 80 acres east of the airport which the County Board is objecting for transfer. A letter will be sent to the Federal government explaining that the objectionable parcels are not within the Reservation boundary.
  With the loss of the 101 parcels from the tax base, $60,000 in revenue will be lost to the taxing authorities. 60% is the County's share and 40% is divided between the school districts and the fire district.