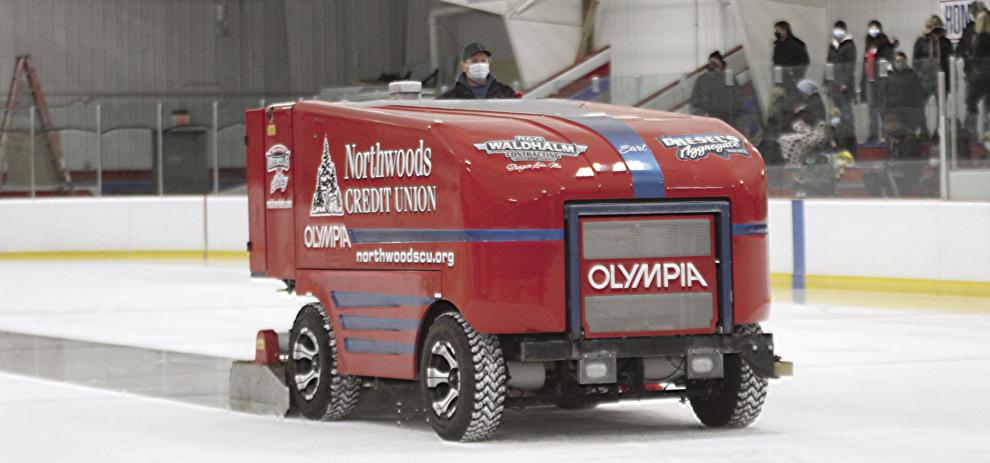 For nearly a decade Guyal Nelson has been learning and practicing the art of making ice at Moose Lake's Riverside Arena.
What started out as a 10 hour a week caretaker position gradually has become much more. Guyal Nelson watched and learned from volunteers, training seminars and trial and error to make the perfect sheet of ice for skating. At first his job did not include making ice, but with the gradual decrease in willing and knowledgeable volunteers Nelson soon became the Ice Master in Moose Lake. 
The key to perfect ice according to Nelson is time. That sheet of smooth frozen water all starts with a patiently made quarter inch sheet of ice, created by painstakingly even coverage of the arena surface with water that is allowed to freeze solid. Simply tossing out a hose is not enough according to Nelson, time and patience must be used to direct the water into creating a smooth base coat of ice. Paint that freezes dry is then applied to this base coat of ice, and another carefully created three quarters of an inch of ice is added on top of those painted lines and logos. 
After the ice is made it needs to be maintained. Treating and smoothing the surface using a maintenance machine known as a Zamboni scrapes the surface flat and coats it with water to fill in nicks and gouges on a regular schedule. 
working on scheduling staff to care for the ice and arena, checking emails, posting on the arena social media pages, treating the ice, checking temperature gages, cleaning and now disinfecting to prevent the spread of COVID-19. This is not a job he does alone, he has a staff of three and many volunteers around to help him care for the ice and arena. 
With the increasing number of rules put in place to protect skaters and staff from COVID-19 the staff and volunteers have had to make adaptations. Locker rooms are not available for skater use and many show up for practice fully dressed. Despite the difficulties Nelson thinks it is important for kids to have the opportunity to get out and enjoy their ice time. 
Nelson says that his favorite part of working at Riverside Arena is watching the kids who come in learning how to skate and following them through their hockey careers from Ice Mite age to Varsity skaters. He has watched many of the current Rebels Girls' Varsity skaters from those early glides on the ice to now. 
So many rinks and arenas are struggling to make ends meet with the increased restrictions from COVID-19 making them close their doors to the public. The Moose Lake Hockey Association has not been able to hold any of their regular tournaments for fundraising. The city of Moose Lake chose to go ahead and put in ice, even during the shut down. Nelson predicts that income will be impacted well into next year by these safety measures.  
 * Editor's note: Nelson wanted me to mention that skate sharpening is also a part of his job at Riverside Arena, he gets asked regularly if this is something they do there. If you have questions on cost and available times please contact them. The system used is computerized so sharpening is accurate and skates come out sharp.