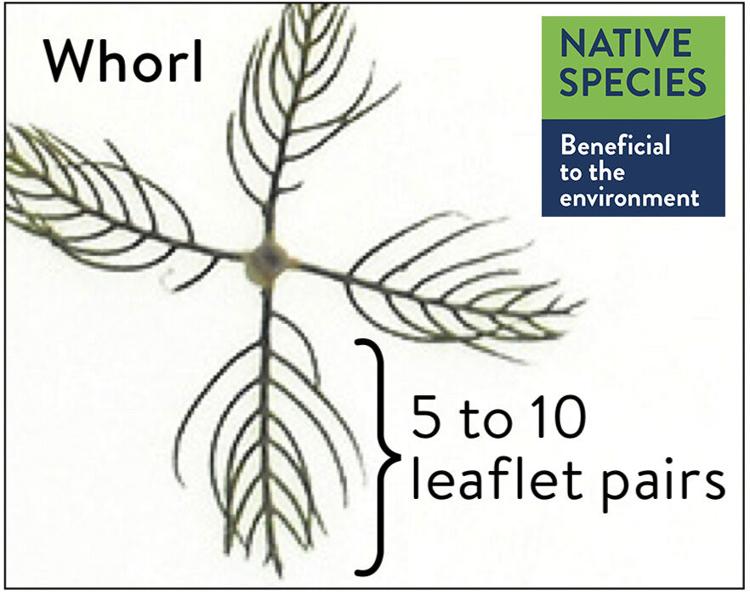 Since 2015, Bear Lake in Barnum has been infested with Eurasian watermilfoil, an invasive species native to Europe and Asia. Another round of treatment for Bear Lake is planned for September. 
Eurasian watermilfoil is commonly mistaken for a several native species of plant in Minnesota lakes, specifically the northern watermilfoil.  Leaves on Eurasian watermilfoil are featherlike, arranged around the stem in a whorl and each leaf has 12 to 21 pairs of leaflets. Color for both types of milfoil are similar and should not be used for identification. The northern milfoil has half the number of leaflets, with only five to 10 per leaf. 
Programs from the Minnesota Department of Natural Resources (DNR) to remove or control Eurasian watermilfoil, like the one Barnum City Council approved to participate in, use three possible methodologies. Manual removal of visible plants or herbicide applications. These applications are completed with the most care possible for native species and animals that could be impacted. Research is currently being conducted on the effectiveness of native insects on the removal of Eurasian watermilfoil. 
Invasive species, specficially watermilfoil, damage lakes and waters in Minnesota by growing in dense mats at the water's surface that inhibit water recreation. It also overtakes habitat and outcompetes native aquatic plants, potentially lowering diversity in Minnesota lakes and rivers. Eurasian milfoil also provides unsuitable shelter, food, and nesting habitat for native animals.
The best way to control the spread of invasive species is to clean watercraft of all aquatic plants and prohibited invasive species, drain all water by removing drain plugs and keeping them out during transport, dispose of unwanted bait in the trash and dry docks, lifts, swim rafts and other equipment for at least 21 days before placing them in another body of water. Eurasian watermilfoil is primarily spread through the movement of water equipment. All it takes is a single plant fragment to start a new population.