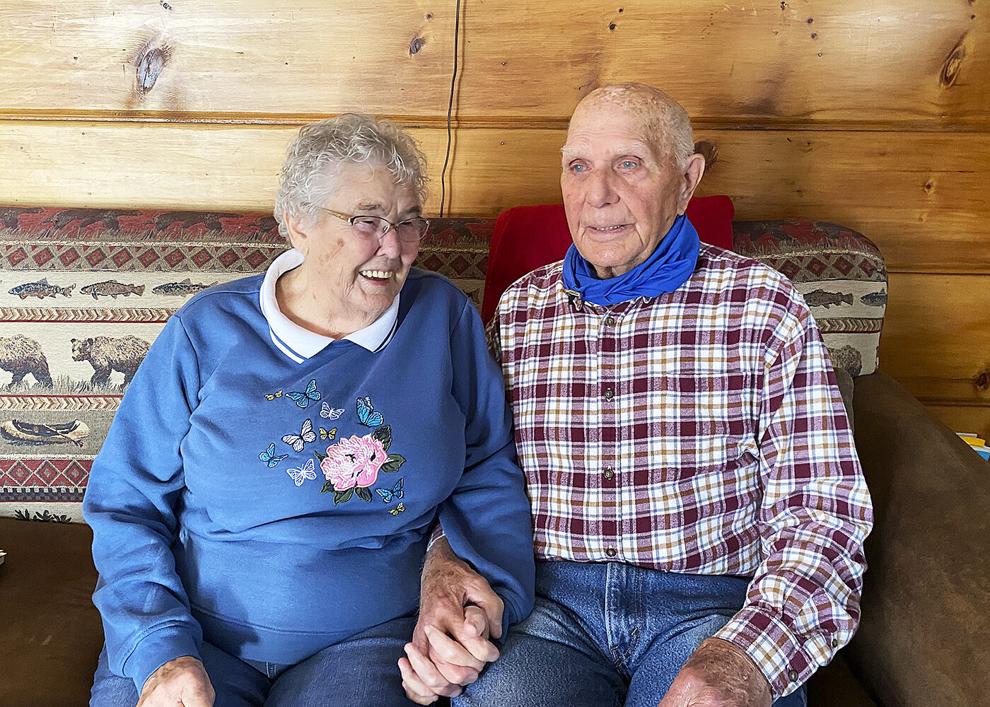 "Come in," said Ray Gurske, a spritely 95-year-old World War II veteran with bright blue eyes. "Ma, we have company," Ray said to his wife of 75 years in the other room of their Wright home. "The first time you are company, the next time you are family."
Ray said he was surprised to find himself celebrating a 75th wedding anniversary with Alice, let alone living to 95-years-old.
Ray joined the U. S. Navy during World War II on his 17th birthday in 1943. A few months later he was in New Guinea.
He added that he looked so young that the captain told him he didn't even look old enough to be his paperboy. 
"Our job in the 7th fleet was to take Mr. MacArthur (General Douglas MacArthur) back to the Philippines one island at a time," Ray said. "I was in 14 different landings."
He worked in the belly of a 158 foot long Landing Craft Infantry or LCI, in the engine room. "The Skipper said I had the fastest hands," Ray said proudly.
He said there were between 30-40 people on the amphibious ship working on the craft. 
"It was kind of crowded," Ray said with a laugh. "The LCI #28 was a good old bucket, but it wasn't very big." Ray said the men on the LCI did not venture onto shore and if they did, they did not go past the tree line.
"We only went to the beach to refuel," Ray explained. "In the 1940s you didn't go inland at all or you wouldn't come back. The cannibals would eat you. It was still wild down there." 
He said there were a lot of rumors during the time there.
"Some of it was probably true," Ray said pragmatically. "Some of it was probably baloney."
The LCI transported hundreds of soldiers to the beach to build runways for military planes. 
"They thought we could win the war with air superiority," Ray said. He said it worked well most of the time, until it didn't. 
"We were all in one area," Ray remembered. "There was only one way out." The Japanese had the men cornered. The Air Force was nearby and sent two planes to save the trapped men. Ray missed seeing the action because he was working in the engine room.
"We got out of there, but they had us in a bad spot because they wanted to take over the island," Ray said. "We wanted to get in the middle so MacArthur could walk ashore."
"We dumped him on the shore," Ray said. "He walked out into the water with his pants rolled up and he had his corn cob pipe in his mouth. Big jerk." He explained that MacArthur constantly wanted to be the center of attention including being alone in photos. 
On October 20, 1944, MacArthur waded to shore on the Philippine island of Leyte, according to history.com. In January, 1945 his forces invaded another island, Luzon. In June he announced that the offensive operations were at an end. Only one-third of the men MacArthur left behind in March 1942 survived to see him return, according to the website. ""I'm a little late," he told them, "but we finally came."
Segregation continued into the military.
Colored people ended up in the kitchen on the LCI, Ray said. There were six on board while he was there. He explained that the colored soldiers took cold salt water showers while the white soldiers were allowed to use a fresh water shower on the craft.
Ray contracted malaria while he was on the LCI. The cook made sure he took his six pills, three times a day with his meals. Malaria did not slow him down.
"You got stuff to do," Ray said matter-of-factly. "You don't worry about being sick."
The couple are now in their 90s. Ray is 95 and Alice is 92, but they still remember how they met.
Ray was discharged on Christmas Day, 1945.
He went back to his hometown of Duluth, where he met his future bride, Alice.
"I was working as a cashier at the Lyric Theater," Alice explained. A friend met her and brought her boyfriend. The boyfriend asked Ray to come along to distract Alice so the couple could spend time alone. They eventually ditched Ray and Alice, so they went to the Blue and White Cafe on 1st Street in Duluth for a hot dog and coke.
"It was a big deal at the time," said Alice with a smile. They're favorite song on the jukebox was "Let it snow, let it snow, let it snow" by Frank Sinatra.
She said she thought Ray was a nice young man and continued to date him.
"I just liked her brown eyes," Ray said. 
The couple dated for a year before spontaneously getting married at noon at the courthouse in Two Harbors on Sunday, November 3, 1946. Alice was too young and her dad signed a consent form allowing her to marry. She was miffed because she was already living on her own. Her brother, Melvin, picked up the marriage certificate.
The courthouse was eerily empty and quiet on a Sunday.
"It was very somber," Alice said. "It (the ceremony) was still very meaningful." She said she doesn't regret not having a traditional wedding ceremony.
The couple made it to the Lester River in Duluth before their 1936 Pontiac overheated. Ray brought water from the river to fill the radiator so they could continue on their way. 
They moved around to several states over the next few years, including Indiana and Louisiana. 
The Minnesota couple were shocked to discover signs in restaurant windows stating that they only catered to white people. They searched for a restaurant that welcomed everyone, but couldn't find one.
"Everyone breathes the same air," Ray said indignantly. "They (the cook on the LCI) saved my life by giving me my pills." 
Ray and Alice shared other stories of segregation in the 1940s and 1950s during their travels.
"Those were the good old days," said Ray sarcastically. "I'm glad things have changed."
Several people told the young couple their marriage would not last.
"I can't even say anything to them because the ones that said we'd never make it are no longer here," Ray said. 
They agreed a marriage is a 50/50 proposition.
"When I got married it was for good," Alice said. "When we have arguments, we solve them."
The couple have two children, a son and a daughter.
"I ordered a brown eyed boy," Ray said. "But I got a green eyed girl like my mom. I kept her anyway." The couple also have around 17 great grandchildren and a great-great grandchild, although they admit to having trouble keeping track of everyone.
They share their advice for a long, happy marriage.
"Don't get too mad," said Ray.
"Never get mad at the same time," Alice said.